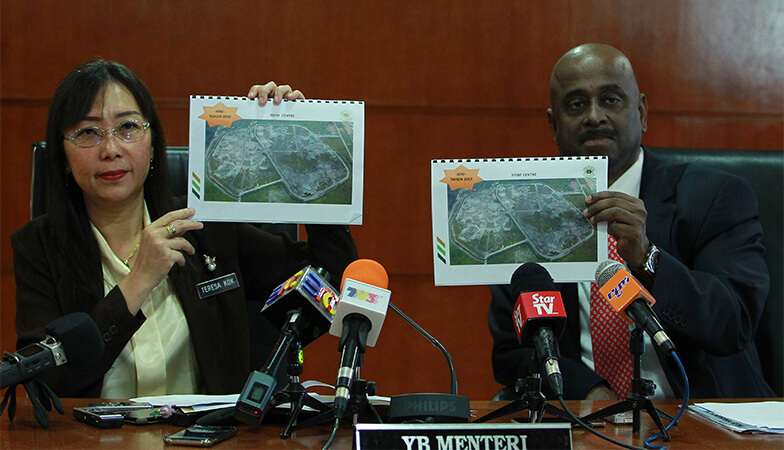 Primary Industries Minister Teresa Kok and LGM chairman Sankara Nair at a press conference today. Photo by Shahrin Yahya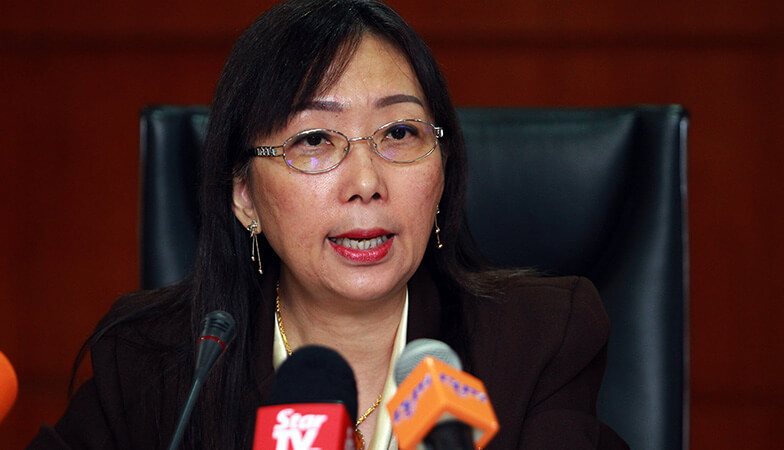 A report has been lodged to the MACC on Nov 27, 2018, "for breach of established LGM procedures" over the five-facility project which was terminated in 2018, said Kok. Photo by Shahrin Yahya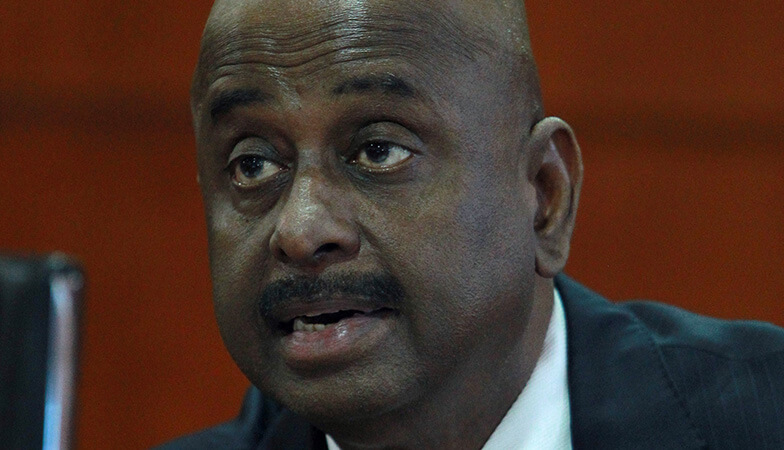 For the 2010 land sale, the matter has been brought to the Auditor-General for further deliberation before any formal reports can be lodged, said Sankara. Photo by Shahrin Yahya
PUTRAJAYA (Jan 3): The Malaysian Rubber Board (LGM) was short-changed by at least RM780 million for partial land sale in Sungai Buloh to a special purpose vehicle (SPV) under the Ministry of Finance (MoF) back in 2010.
LGM, Primary Industries Minister Teresa Kok told reporters at a press conference today, also incurred losses of RM70 million after paying for an incomplete development in a separate portion of the same land — Lot 481 in Sungai Buloh — which was awarded in 2013 and terminated months before the 14th General Election.
The 2,800 acres sold to the SPV, Aset Tanah Nasional Bhd (ATNB), was part of 3,385 acres within Lot 481, said Kok. It was sold by LGM to ATNB for RM1.5 billion via direct sale under the instruction of the Cabinet at the time, she added.
"However, it has now come to the knowledge of LGM that thereafter [in 2011], the said 2,800 acres of land was subsequently bought by Kwasa Land Sdn Bhd for sale consideration of about RM2.28 billion," said Kok.
According to Kwasa Land's official website, the company was formed in 2010 as a wholly-owned unit of the Employees Provident Fund (EPF) to specially undertake the development of 2,330 acres of prime land located in the Klang Valley, formerly belonging to LGM.
It begs the question as to why the land was first sold to ATNB and not sold to EPF via direct sale instead, said present LGM chairman Sankara Nair.
On the remaining 585 acres in Lot 481, LGM appointed a project delivery partner (PDP) to develop five facilities on-site for RM1.1 billion "apparently without proper [LGM] Board approval", added Kok.
It is understood that until the PDP was terminated in February 2018, the PDP had completed only 5% of the development. The PDP, said Sankara, received RM70 million or 6.3% of the total project cost in total before the project was terminated.
Sankara also confirmed that the PDP for the project is KLIA Consortium, which was formed by KLIA Associates Sdn Bhd and KLIA Consultancy Services Sdn Bhd. Among the work package contractors are Mudajaya Group Bhd, previous news reports showed.
However, another project on Lot 481 dubbed "Taman Warisan Baka Getah Malaysia" — a national heritage site — will be continued, added Sankara.
These matters were discovered upon the initial audit by the LGM under Kok's instruction when she was appointed to her current ministerial position soon after GE14.
For the 2010 land sale, the matter has been brought to the Auditor-General for further deliberation before any formal reports can be lodged, said Sankara.
"The internal audit [by LGM] is still ongoing… There may be external auditors to be called in later. We expect the Auditor-General to complete the [separate audit] in a month's time," he said.
Meanwhile, a report has been lodged to the Malaysian Anti-Corruption Commission (MACC) on Nov 27, 2018, "for breach of established LGM procedures" over the five-facility project which was terminated in 2018, added Kok.
"Apart from this, the Board shall also proceed with disciplinary action against certain individual officers in LGM for wrongdoings," the minister said.
Accordingly, the board of LGM — which owns roughly just under RM3 billion worth of lands throughout Malaysia — has "declared an immediate moratorium on all future development of all LGM-owned lands", added Sankara.