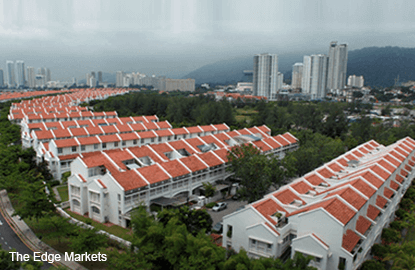 PUTRAJAYA (April 19): Malaysian property market transaction volume shrank 5.7% to 362,105 in 2015 from 384,060 in 2014, according to the 2015 property market report.
The report indicated that overall property market transaction value has declined by 8% to RM149.9 billion in 2015 from RM162.9 billion in 2014.
In conjunction with the release of the report today, Deputy Finance Minister Datuk Chua Tee Yong told reporters that the soft property market scenario is expected to continue in 2016.
"Residential sub-sector remain the strength in the property market (in 2015) and capable to drive the industry due to emphasis given by the 11th Malaysia Plan and Budget 2016," he said.
Residential sub-sector continued to lead overall property market in 2015, constituted 65.2% of total transacted volume, followed by agricultural (18.4%), commercial (8.8%), development land (5.7%), and industrial (1.9%).
The residential sub-sector transacted volume dropped 4.6% in 2015, while all of the other sub-sectors also fell in the range of 2.4% to 13%.
In terms of value, except for agricultural and development land, which posted growth of 2.9% and 14.9% respectively, all other sub-sectors recorded declines in the range of 10.5% to 17.6%.
Chua pointed out that the Malaysian Housing Price Index (MHPI) had moderated as at the fourth quarter of 2015, registering 227.5 points (at base year 2000), up by 5.8% on an annual basis.
"This is the first time since 2011 that the index saw a decline of 0.8% on a quarter-on-quarter basis, resulted from various cooling measures to contain housing prices," he added.
Chua also said that the increase in offerings through housing programmes announced in Budget 2015 and 2016 is expected to inject more affordable housing for Malaysian citizens with moderate income.
"Overall new launches are expected to be slow (in 2016), allowing the property market to absorb completed unsold units from time to time," he said.
"In view of more than 50% of new launches in 2015 [falling] under the price range of RM500,000 and below, 2016 market pattern is expected to continue (to) be dominated by affordable housing," he added.
Meanwhile, he also foresees that the performance for office market is estimated to be flat in 2016 followed by additional new spaces to be added into the market.
"Pressure will be expected to continue on office space rental, especially buildings with tenants related to the oil and gas industry," he explained.
Nevertheless, he stressed that various incentives and activities in building infrastructure and public transport network will help to support the long-term growth of the property sector.