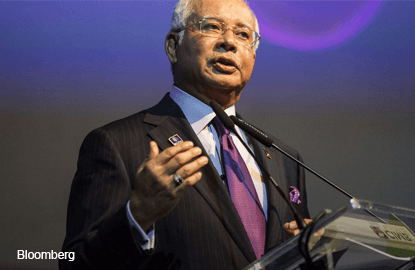 KUALA LUMPUR (March 6): Malaysia's Prime Minister Najib Razak rebuked North Korea on Monday as his government expelled its envoy for casting doubt over the impartiality of the investigation into the murder last month of the North Korean leader's estranged half brother.
If North Korean agents did kill Kim Jong Nam, as U.S. officials and South Korean intelligence suspect, the decision to assassinate him on Malaysian soil could cost the isolated, nuclear-armed state one of the few friends that it has.
Malaysia's outrage over the killing of Kim Jong Nam at Kuala Lumpur International Airport was heightened by the assassins use of VX nerve agent, a chemical so toxic that it is on a U.N. list of weapons of mass destruction.
North Korea has refused to accept that the victim of the Feb. 13 murder was leader Kim Jong Un's half brother, and Ambassador Kang Chol accused Najib's government of colluding with external forces and said the investigation could not be trusted.
Prime Minister Najib had branded Ambassador Kang "diplomatically rude" and, angered by the lack of an apology, the Malaysian government on Saturday gave him 48 hours to leave.
"They should have apologised. So based on principles, we have declared him persona non grata," Najib told reporters at parliament on Monday.
"There is no one who can undermine us or disrupt us as they please," he said.
Parting shot
The expelled ambassador fired a parting shot at the Malaysian authorities as he prepared to leave from the same airport where Kim Kong Nam was killed. "I express grave concern over the extreme measures taken by the Malaysian government, doing great harm to the bilateral relations which has a history of more than 40 years," he told reporters.
Kang said his statements were a stand taken against a "pre-targeted investigation by the Malaysian police."
Kim Jong Nam, who had been living in the Chinese territory of Macau under Beijing's protection, had spoken out publicly against his family's dynastic control of North Korea.
So far, Malaysian prosecutors have charged an Indonesian woman and a Vietnamese woman for the murder of Kim Jong Nam.
But police have identified eight North Koreans, including a senior embassy official and state airline employee, wanted for questioning in the probe.
Police say that four of the North Koreans police they want to interview left Malaysia in the hours after the murder.
Only one North Korean suspect was apprehended, but after several days in custody Ri Jong Chol was deported on Friday after being released due to insufficient evidence.
Ties wont be same
Until this week Malaysia was one of the few countries that North Koreans could enter visa without a visa. But that privilege has been revoked.
Asked whether Malaysia, which recalled its ambassador to Pyongyang for consultations, would be reviewing diplomatic ties with North Korea, Najib was noncommittal.
"We will see. We'll take it one step at a time."
Malaysia also asked for an Asian Cup soccer qualifier match against North Korea to be moved to a neutral venue, as tensions escalated.
"The relationship has already been affected, it won't be the same," Deputy Foreign Minister Reezal Merican told reporters.
The case has also cast a spotlight on North Koreans living in Malaysia, with authorities vowing to investigate North Korea-linked companies that are suspected of operating a sanctions-busting arms business in Malaysia.
Reuters reported this week that a front company run by North Korean intelligence agents ran an arms operation out of Malaysia.