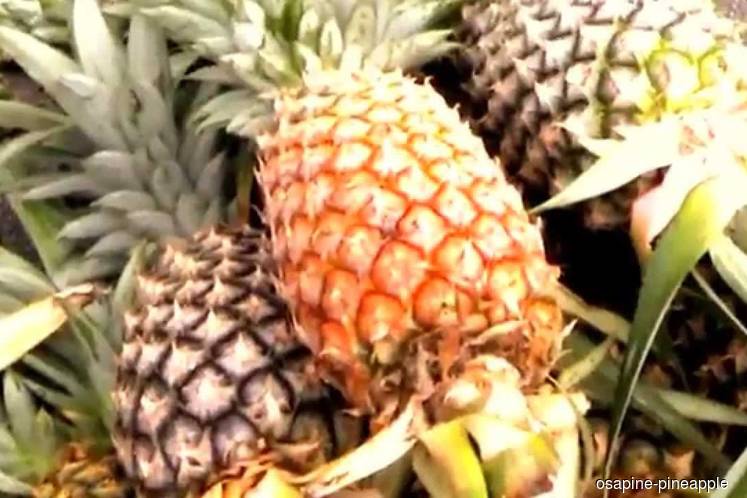 PUTRAJAYA (June 20): Malaysian pineapples especially the MD2 variety are gaining popularity and have the potential for development as an industry to match the success of the Musang King durian, said Agriculture and Agro-based Industry Minister Datuk Salahuddin Ayub.
He said this was evident from the rapid growth of the country's pineapple export, which increased 56 percent to RM342 million last year from RM208 million in 2017.
"We are confident about the potential of pineapples and want the industry to be exploited, like the Musang King durian which has penetrated markets in China and other countries," he told a media conference here today.
At the media conference, Salahuddin also announced the appointment of Datuk Abdul Malik Abul Kassim as the Malaysian Pineapple Industry Board (MPIB) chairman, effective June 1 this year.
Salahuddin said Malaysian pineapple products were exported to more than 20 countries, including Japan, Korea, China, Hong Kong, Singapore, Saudi Arabia, Iran, Egypt, Germany and France.
He said during his visit to China in August last year, he saw the huge potential for Malaysian pineapples in that country.
"Pineapples of other varieties also have potential to be developed, like in the Middle East countries, where the people there prefer pineapples with sourish taste, unlike those in China where they prefer the sweeter ones," he added.
Hence, he said, MPIB should remain committed and seize the opportunities provided by the high demand for Malaysian pineapples abroad to boost the income of farmers.
"The Government has also made pineapple as a new source of revenue for the country considering the lucrative income it can provide for farmers and entrepreneurs," he added.