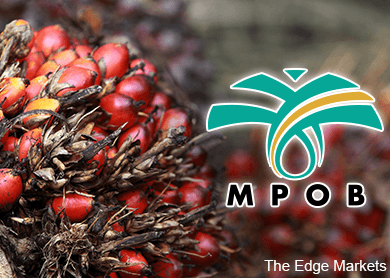 KUALA LUMPUR (Nov 11): Malaysian October palm oil inventory rose to a record high, as output grew at a faster pace than export rise from a month earlier.
The Malaysian Palm Oil Board (MPOB) said in a statement today that palm oil inventory, comprising crude palm oil (CPO) and processed palm oil, rose 7.29% to 2.83 million tonnes, from 2.64 million tonnes in September.
CPO output rose 4% to 2.04 million tonnes, from 1.96 million tonnes. Palm oil exports climbed 1.87% to 1.71 million tonnes, from RM1.68 million tonnes.
October palm oil inventory's 7.29% growth was in comparison to September's 5.99% rise.
October's 2.83 million-tonne inventory was higher than analysts' forecast.
Earlier, CIMB Investment Bank Bhd said Malaysia's October palm oil inventory could have climbed to 2.72 million tonnes, from the preceding month, as exports dropped at a faster pace than production.
In a note, CIMB analyst Ivy Ng Lee Fang said the inventory level would be a record high.
Ng predicted palm oil exports would decline 2.7% versus CPO production's 0.9% drop.