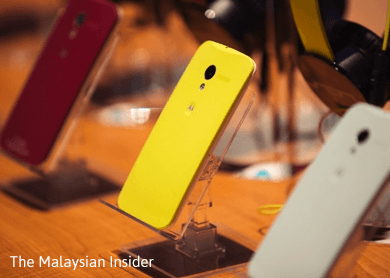 KUALA LUMPUR (May 6): The Malaysian government is unlikely to designate mobile telecommunication prepaid reload services as zero-rated items under the goods and services tax (GST) scheme, according to CIMB Investment Bank Bhd.
Quoting sources, CIMB analyst Foong Choong Chen wrote in a note that Multimedia and Communications Minister Datuk Seri Ahmad Shabery Cheek was not looking at designating prepaid services under the zero-rated list.
Foong said: "Instead, to maintain prepaid top-up cards at pre-GST prices with the same reload credit upon sale, it is possible that GST is applied only upon usage. This is essentially the same as factoring in GST through a reduction in reload credit."
"In this event, telcos may not be able to fully benefit from GST as some prepaid subscribers may choose to stick with the reload credit they have and pare down usage, instead of reloading more frequently," he said.
According to the Royal Malaysian Customs Department's website, consumers are not charged GST under the zero-rated system. Meanwhile, businesses can claim input tax credit when they buy their supplies.
CIMB's Foong said if GST was applied only upon usage of mobile telecommunication prepaid reload services, the research firm would have to cut income and share target price (TP) estimates for service providers.
The list comprises DiGi.Com Bhd, Maxis Bhd and Axiata Group Bhd.
"Assuming prepaid usage levels drop by 3%, our financial year 2015 (FY15) to FY17 earnings before interest, taxes, depreciation, and amortisation (EBITDA) forecast for DiGi.Com Bhd would have to be reduced by 2.2% to 2.8%, for Maxis Bhd by 1.6% to 2.1% and for Axiata Group Bhd by 0.8% to 1.1%," said Foong.
"Correspondingly, our target prices would have to be revised downwards to RM6.00 (-3.2%) for DiGi, RM6.70 (-2.9%) for Maxis and RM6.85 (-2.1%) for Axiata Group," Foong said.
Foong also noted that in the worst case scenario where telecommunication firms have to absorb the 6% GST, CIMB's FY15 to FY17 EBITDA forecast for DiGi (fundamental: 1.55; valuation: 1.7) would be reduced by 5.2% to 6.7%. CIMB said it would also reduce Maxis' (fundamental: 1.15; valuation: 1.1) EBITDA by 3.5% to 4.5% and Axiata's (fundamental: 0.85; valuation: 1.1) by 2.1% to 2.7%.
Correspondingly, CIMB would have to revise downward its TP to RM5.80 for DiGi, RM6.50 for Maxis and RM6.70 for Axiata.
(Note: The Edge Research's fundamental score reflects a company's profitability and balance sheet strength, calculated based on historical numbers. The valuation score determines if a stock is attractively valued or not, also based on historical numbers. A score of 3 suggests strong fundamentals and attractive valuations.)