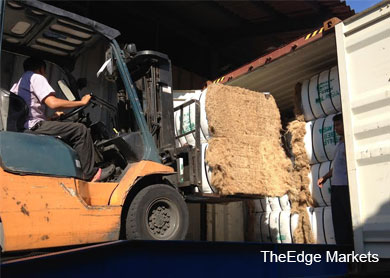 BUTTERWORTH (Oct 30): Malaysia-grown kenaf is breaking into the world market. The local produce will penetrate the China market this week, with a first shipment of 20 tonnes of fibre for the automative and furniture industries there.
Malaysia's National Kenaf and Tobacco Board Director General Samsudin Noor said raw kenaf fibre exports, which would increase to 200 tonnes per month beginning this December, would garner about RM2.4 million revenue a year.
Speaking in a press conference, Samsudin said the board's first-ever overseas market penetration into China was a historical moment, as it also paved the way for local kenaf to compete in a global market.
"There is a growing demand for Malaysian-produced kenaf fibre, because of its high quality. We use mechanical methods to produce it for the non-woven (non-textile) sectors such as construction, automotive and furniture.
"China also produces kenaf, but it is not sufficient for their market. The amount of fibre exported would increase in time, but for now, it is 200 tonnes. We look forward to exporting to other countries in the region. This plant has high potential of supplying the automotive industry, because of its high value fibre," he said.
Kenaf is part of the Hibiscus family (Hibiscus cannabinus L) that is sourced for its natural fibres to be used in the furniture, construction, automotive, besides pulp and paper industries
Introduced in Kelantan, Terengganu and Pahang in 2004, the fast-growing plant with just four months between growth and harvest within two cycles a year, only took off actively after the board was set up in 2010.
By exporting kenaf to the China market, Samsudin said Malaysia was preparing for the huge growth in China's massive automotive, construction and furniture sectors.
He said exports would be conducted on a joint-venture basis between the board, and local company P&C Global Enterprise, which is based in Sungai Petani, Kedah.
According to the board's 10-year master plan, which starts next year, Samsudin said the board had targeted about 10,000 ha for kenaf cultivation, that would fetch the industry a revenue of RM75 million in raw material output alone by 2020.
"The federal government pumped in RM63 million into this industry for research and development (R&D), to increase the number of farms and seedlings. We will also be setting up a total fibre processing plant in Setiu, Terengganu soon.
"Our closest competitor is Indonesia, but it does not have facilities such as full mechanical processing, and R&D expertise that could match ours," he said.