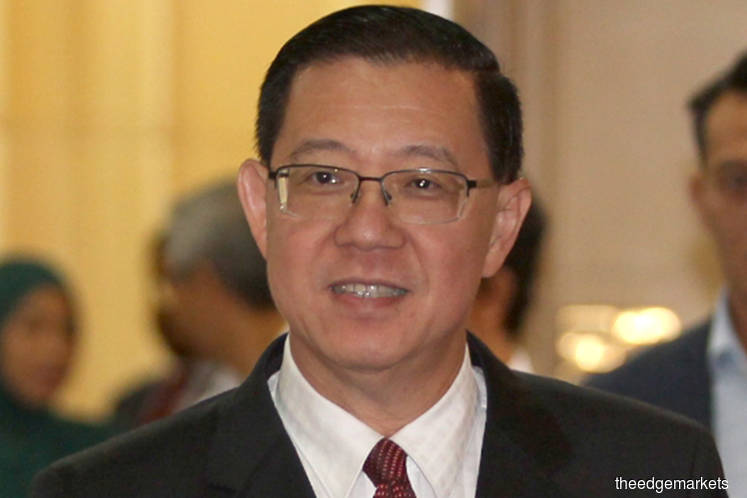 KUALA LUMPUR (May 25): The Malaysian government will be transparent about its financial numbers whether the market likes it or not, said Finance Minister Lim Guan Eng.
Speaking at the sidelines of an event at the Ministry of Finance (MoF) today, Guan Eng opined the public "deserves to know" the real state of the nation's financial health.
"It is up to the stock market to determine [how to react]… we will keep an open mind, take all views and accept criticism.
"[But] if [because of] being transparent, we are punished, I think there is nothing we can do, but we will still continue to be transparent [about our numbers]," he said.
He reiterated his commitment that MoF will not be using the old system where certain national spending was "kept hidden" from the public.
"We always say speak truth to power. I think power must start speaking truth to the public."
On Wednesday, the newly-elected Pakatan Harapan government shared that the national debt has breached RM1.09 trillion ringgit, far higher than the official figure of RM686.8 billion touted by the previous Barisan Nasional government.
Analysts said the revelation prompted some investor sell-off at the Malaysian stock market, which fell 2.21% on the day of the announcement.
The new numbers was achieved after taking into consideration government guarantees and lease payments for Public Private Partnership (PPP) projects, which were previously marked as off-balance sheet items, Guan Eng revealed the next day.
"The only change is that the new federal government has decided to call a spade a spade," Guan Eng said on Thursday. 
Meanwhile, Guan Eng also assured investors and the business community that Malaysia's economic fundamentals remains intact, as seen in key sectors such as the financial sector.
"The banks are still strong," Guan Eng cited, pointing to the sector's high capitalisation and liquidity, paired with low non-performing loan (NPL) numbers.
"But we will need to ensure our fiscal position can be improved. We are working on that." he added.
Additionally, Guan Eng also reiterated that the government is committed to do its part in fulfilling 1MDB's debt obligations. 
"We will pay our obligations because this is a commitment by the federal government. We will honour those, even though we are not happy with 1MDB," he said.
"I think this will reassure the market that this govt knows what it is doing, that it is market friendly and follow international financial norms," he added.
Earlier, MoF revealed to have forked out RM6.98 billion to pay off 1MDB's debt obligations, partly with funds obtained from lands sold to Bank Negara Malaysia and redemption of redeemable cumulative convertible preference shares from MoF by Khazanah Nasional Bhd.