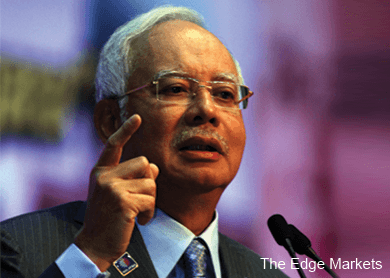 KUALA LUMPUR (Mar 25): Prime Minister Datuk Seri Najib Tun Razak said SRC International Sdn Bhd, a wholly-owned unit of the Finance Ministry, had invested RM3.81 billion in overseas assets.
Najib said these included assets in countries like Indonesia and Mongolia.
"The total investment for SRC International is RM4.1 billion of which RM3.81 billion has been invested in overseas assets related to natural resources and coal in countries like Indonesia and Mongolia," he said.
Najib said this in his written reply to queries by PKR secretary general Rafizi Ramli in parliament. Reporters had obtained Najib's reply today.
Earlier, Rafizi had asked Najib, who is also finance minister, to state all the expenses and investments of SRC International since its inception until 2015.
Yesterday, Rafizi, who is also Pandan MP, said SRC International posted a RM164.35 million loss for financial year ended Mar 31, 2014 (FY14) compared to a RM52.6 million profit a year earlier.
Rafizi said the loss was mainly due to a 50:50 joint venture (JV) in Mongolia between SRC International and Gobi Coal and Energy Ltd. Citing SRC International's FY14 financial report, which was filed on Oct 30, 2014, Rafizi pointed out that the firm did not generate any revenue for FY14 and FY13.
This was despite SRC International taking a RM4 billion loan from Kumpulan Wang Persaraan (Diperbadankan) (KWAP) or Retirement Fund (Inc), according to him.
Today, Rafizi disclosed that out of the RM4.1 billion invested by SRC International, an estimated RM3.1 billion portion had been put into open-ended funds that cannot be traced by auditors of the company.
He expressed his dissapointment against the government for failing to fully disclose the expenses and investments of SRC International.
"Normally, if a company invests by buying stocks or interest in another company, the investment would be detailed in the financials of that subsidiary," said Rafizi.