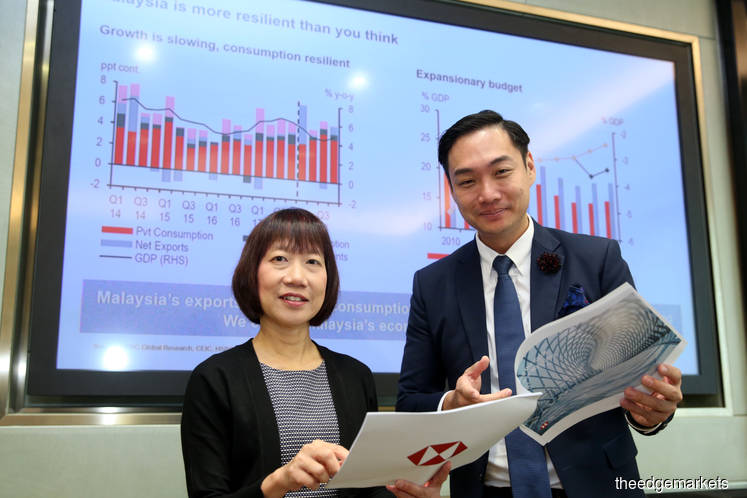 Fan (left) with Cheo at HSBC Private Banking's second-half 2019 investment outlook briefing here today. Photo by Sam Fong/The Edge
KUALA LUMPUR (June 13): Malaysian equities are still more expensive than its regional peers and expectations for earnings growth are low, HSBC Private Banking says.
Its managing director and chief market strategist for Asia Fan Cheuk Wan said the bank "remains cautious" on Malaysia's stock market even though it had recently upgraded Malaysian equities to "neutral" from "underweight".
"The earnings growth forecast for Malaysian equity market still remains at a single digit, lagging behind other equity markets that we favour such as China and Singapore with a projected mid-teen percent earnings growth, to which we have mild overweight allocation," she said at HSBC Private Banking's second-half 2019 investment outlook briefing here today.
"With Malaysia's valuation at a premium versus the regional average, it will cap the upside potential of the Malaysian equity market," said Fan, adding that HSBC Private Banking has set a year-end target of the FBM KLCI at 1,740 points.
The Malaysian stock market, which was deemed the worst major market in the world earlier in the year, is staging a rebound after taking a beating since last year. Up until Wednesday, the benchmark KLCI has gained some 3.28% from its 2019 low of 1,598.32 points just a little over two weeks ago.
Malaysia, alongside other Southeast Asian countries, has been cited as a beneficiary from the US-China trade war considering its position as an alternative supply chain location for Chinese companies.
While Malaysian stocks are deemed as defensive in light of the trade uncertainties, investors should not price in the positive sentiment yet, said Fan, until there is clarity on the final outcome of the negotiations between the two biggest global economies.
"It is still possible to have some form outcome from the negotiation [between China and US] later in the year," she added.
While China could be affected by global trade uncertainties, shares of companies are currently traded at a valuation discount considering how the earnings are largely domestically driven, signalling that its earnings fundamentals will remain intact as the trade war progresses, she noted.
Also affecting the investing climate is the hovering political uncertainties, said HSBC Private Banking chief market strategist for Southeast Asia James Cheo.
"The market is not efficient in predicting the outcome of political uncertainties, as seen in the wait-and-see approach," he said.
The good news for Malaysia is that its domestic consumption is considered strong compared to its regional peers, thanks to a tight labour market and a growing income base.
Coupled with a resilient export market and the slew infrastructure projects that are expected to go into full swing later in the year, HSBC Private Banking is anticipating Malaysia's gross domestic product to grow at 4.5% in 2019 and 4.3% in 2020.
Meanwhile, Cheo said the recent downward revision of Malaysia's overnight policy rate to 3% in early May is more of a "pre-emptive measure" as data shows that the nation's economy remains intact.
"We do not expect Bank Negara Malaysia to deliver further rate cuts this year, and predicts the next cut only in 2020," he said, adding that HSBC Private Banking estimates the ringgit to reach 4.30 against the US dollar by end-2019. At 2.14pm, the ringgit was trading at 4.161 against the US dollar.