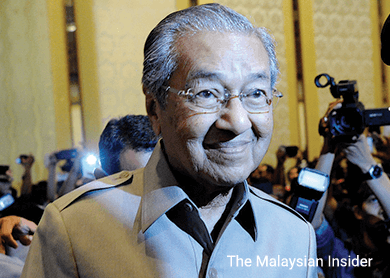 (June 25): Majlis Amanah Rakyat's (Mara) overpriced purchase of an apartment block in Melbourne, Australia, is typical of "Malaysian generosity", Tun Dr Mahathir Mohamed said today.
In his usual acerbic manner, the former prime minister said Malaysians would often overpay for their goods.
"It is our culture that we buy anything. We are generous. We overpay them.
"When I go to the shop to buy items, I hand over RM10 and say, 'keep the change'," Dr Mahathir told a press conference after attending a buka puasa event with Perkasa in Kampung Baru.
Dr Mahathir was asked to comment on a report by Australian newspaper The Age that a "top" Mara officer, senior official and former politician had allegedly spent millions of government funds to buy an apartment block in Melbourne in a property scam.
The report alleged that "a group of super-rich Malaysian officials" overpaid by A$4.75 million (RM13.8 million) for an apartment block in the city in 2013.
The trio had allegedly "overbid" for the building, called Dudley International House, from A$17.8 million to A$22.5 million, with the difference pocketed as bribes back home.
Sydney Morning Herald reported today that Australian authorities have launched several raids in Melbourne following The Age's exposé.
Malaysian Prime Minister Datuk Seri Najib Razak said on Tuesday that the claims by The Age would be thoroughly investigated.
"The authorities here will conduct comprehensive investigations into the claims, and if any wrongdoing is found, action will be taken," he said in a statement on his Facebook and Twitter sites.
Yesterday, Mara chairman Tan Sri Annuar Musa said the agency had begun investigations into the purchase two months ago before the Australian paper reported on it.
He also said Najib had been involved in approving its purchase of the Melbourne property by way of his position as chairman of the Economic Council (EC), but stressed that the purchase decision had been made collectively.
Annuar said the purchase of any property by Mara had to go through certain procedures, including a final approval by the Finance Ministry or EC.
Najib is also the finance minister.
Najib also stressed that the Australian property buy was decided by consensus, and said some media organisations had purportedly twisted Annuar's remarks to imply that the prime minister was responsible.
"The decision is made based on consensus by the economic council," Najib posted on his Twitter account.
The Age said that Australian developers of the property received sham invoices for fake services, such as "consultancy and advisory", from Malaysian firms. – The Malaysian Insider