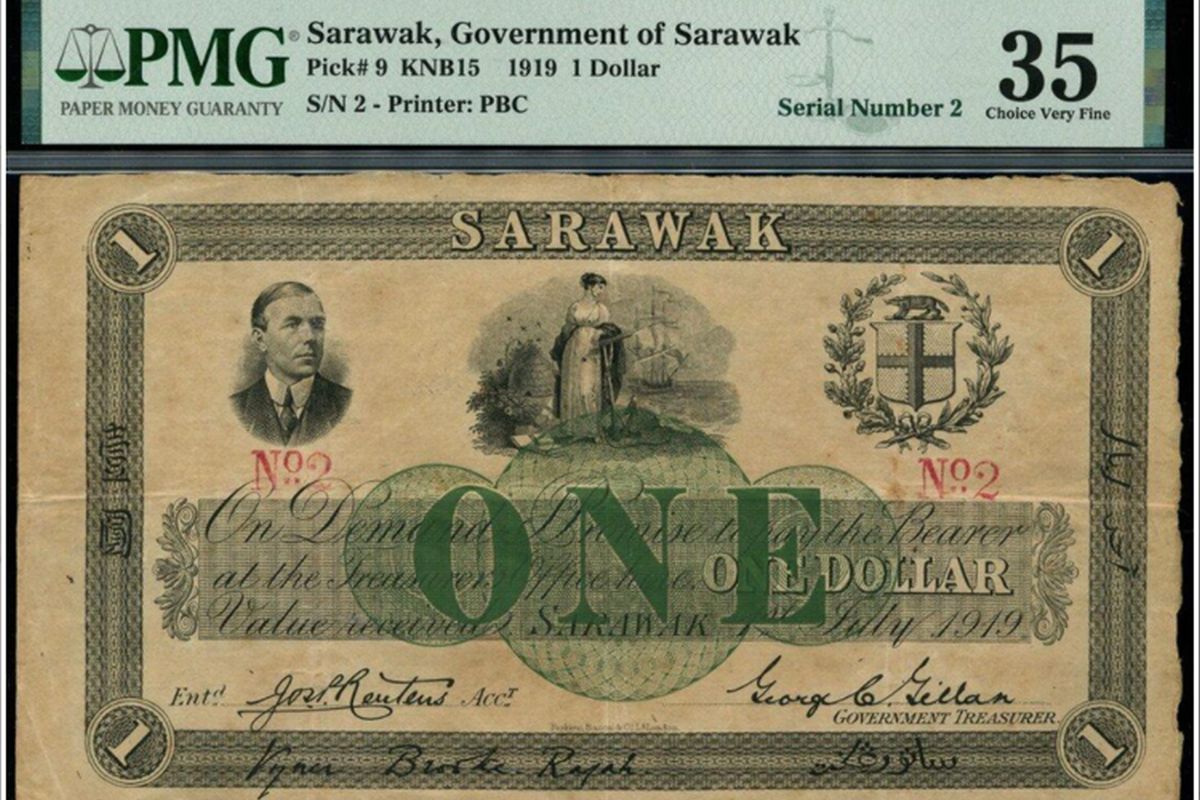 KUALA LUMPUR (Jan 22): A rare Sarawak $1 note, issued by the then Raj of Sarawak in 1919 when the State was under the Brooke Dynasty, has been bought by a Malaysian collector during a live auction held by London-based Spink & Son behind closed doors last Friday.
The note, estimated to be worth £18,000 to £20,000 (RM99,501 to RM110,557), was sold for £27,000. Plus a 20% commission to the auctioneer, a total £32,400 (RM179,103) was paid for the note.
The Edge, however, has learnt that the Malaysian buyer who bought the note does not wish to be identified.
The black and white note with a red 'No.2' printed on it, features a portrait of Charles Vyner Brooke, who ruled Sarawak from May 24, 1917 to July 1, 1946 at its top left corner. He was the last ruler or White Rajah, as the rulers of the Brooke Dynasty were then called, before Sarawak came under British control and subsequently joined Malaysia.
Charles was the son of the second Sarawak ruler Charles Brooke, and grand nephew of Sir James Brooke, a British soldier and the first White Rajah who founded the Raj of Sarawak — as the then independent state was known — and ruled it from 1841 to 1868.
The value of the note was printed in three green circular engine turned designs in the centre.
Another feature that stands out on the currency is the allegorical maiden with a beehive and anchor — representing industry and commerce — at the top of the note.
The maiden was modelled after the Baroness Angela Georgina Burdett-Coutts, a British philanthropist whom King Edward II had reportedly described as "the most remarkable woman in the kingdom", second only to his mother, Queen Victoria. Born on April 21, 1814, Burdett-Coutts was known during her time as 'the richest heiress in England' after she inherited in 1837 her grandfather's £1.8 million fortune. 
Known as a close friend of Charles Dickens and the Duke of Wellington, she is also remembered in history for her love of James, and the assistance she provided him by gifting him ships, advancing loans, and helping to finance his efforts to stamp out rebellions among the natives in Sarawak during his rule. 
James was made the first Rajah of Sarawak in 1841 by the Sultan of Brunei, who ceded the sovereignty of the State to James in return for his help in restoring him to his throne during a period of political turmoil. The Brooke Dynasty ruled Sarawak till 1946.
Other distinct features of the note include the coat of arms for Sarawak under the Brookes' rule at the top right, and the printed signatures of the then Accountant of Sarawak Joseph P Reutens at the bottom left, and of the then Sarawak Government Treasurer George C Gillan on the bottom right.