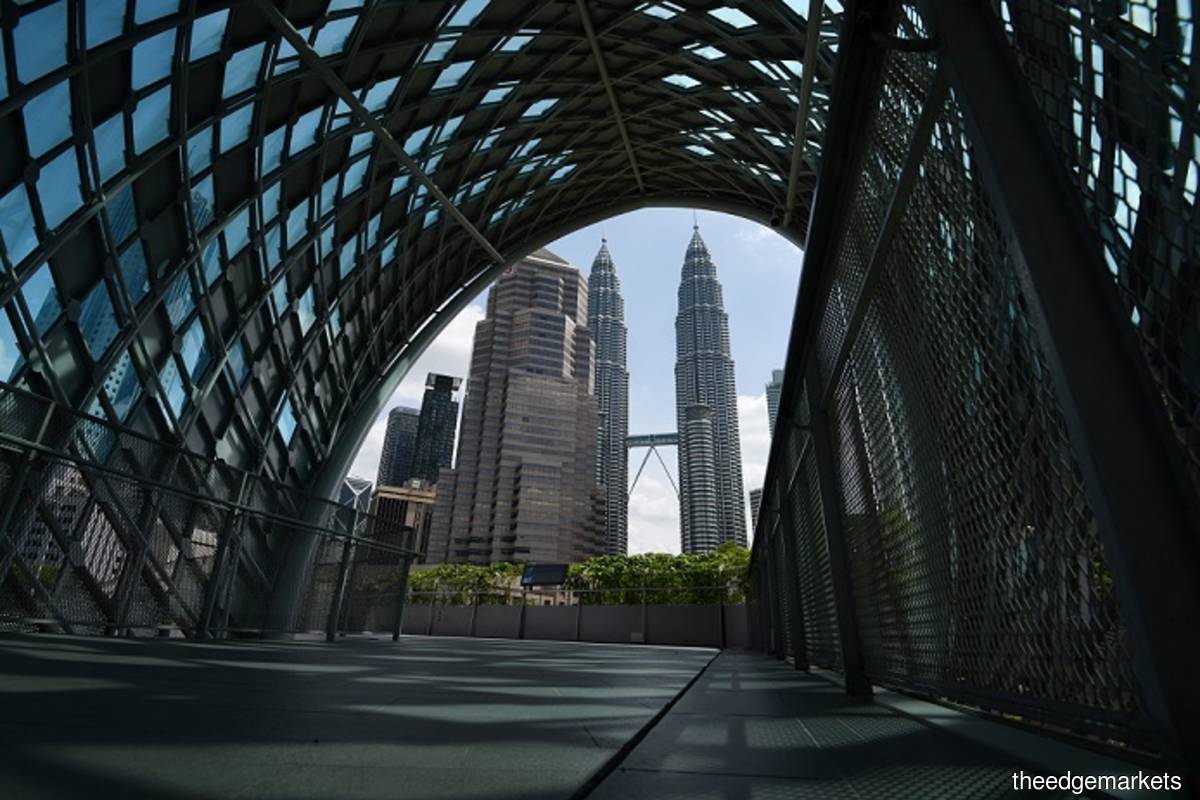 KUALA LUMPUR (Oct 29): Malaysia's capital markets remained vibrant, with gross funds raised increasing by 13.4% to RM163 billion as at the end of July 2021 from a year ago, according to the Economic Outlook 2022 Report published by the Ministry of Finance (MoF) on Friday.
Fundraising activities in the capital markets saw an improvement of 43.1% to RM65.6 billion by the private sector, while the public sector regressed marginally by 0.5% to RM97.4 billion according to MoF.
In the corporate bond market, the private sector raised RM63.8 billion, rebounding by 40.2% in 2021 compared to 2020. Medium-term notes were the most popular new issuance accounting for 97.1% of the total corporate bonds issued.
The financial, insurance, real estate and business services sector dominated the total corporate bond issuance at 55.8%, while the utilities sector for electricity, gas and water came in second at 21.2%, followed by the construction sector at 8.6%.
"The funds raised were mainly used to finance infrastructure projects, new business activities and working capital," explained MoF in the report.
Meanwhile, the public sector raised RM97.4 billion in the sovereign debt capital markets via issuances of Malaysian Government Securities (MGS) worth RM48.5 billion and Malaysian Government Investment Issues (MGII) worth RM48.9 billion, according to the report.
Capital bond inflows reached RM20.8 billion, which resulted in foreign holdings of MGS at 40.4% and MGII at 7.8%. MoF wrote that the funds raised by the government were deployed to finance development expenditure and stimulus packages as at end-July 2021.
Yields for MGS and corporate bonds raised in Malaysia were generally higher across all tenures, amid the consolidating bond yields in advanced economies where major central banks maintained an accommodative monetary policy stance against transitory inflation.
Malaysian bonds also benefited from international investors with a higher risk appetite seeking out higher return fixed-income assets in the emerging markets. Between January to July 2021, the 1-year, 3-year, 5-year, and 10-year MGS yields increased within the range of 3- to 53 basis points (bps), while corporate bonds saw its 5-year AAA-rated, AA-rated and A-rated securities increase within 6- to 43 bps.
Elsewhere in the equity capital markets, a total of RM1.8 billion were raised through new issuance of initial public offerings (IPO) with a significant listing from the digital service sector, according to MoF as at end-July 2021.
"The positive sentiment among investors was partly due to businesses adapting to the challenging environment, while embracing digital technology in running their operations," wrote MoF.
Over a nine-month period between the end of 2020 to end-September 2021, the market capitalisation rose by 10% to RM1.80 trillion, while the market transacted over 1.20 trillion shares worth RM729.2 billion. 
In terms of market velocity, the market registered 54%, while the market volatility was 9.1%. However, foreign holdings in the local bourse was 13% at the end of this period according to MoF's report.
Key capital market measures were also introduced in the first eight months of 2021 by the Securities Commission Malaysia (SC) and Bursa Malaysia to enhance liquidity and efficiency in the capital markets.
Among the many key capital market measures introduced were the provision of additional temporary relief measures for listed issuers by SC, the revamp of Crude Palm Kernel Oil Futures Contract (FPKO) Specifications by Bursa Malaysia's derivatives division, as well as the electronic rights issue subscription service by Bursa Malaysia.
For more stories on the Economic Report 2021/2022, click here.