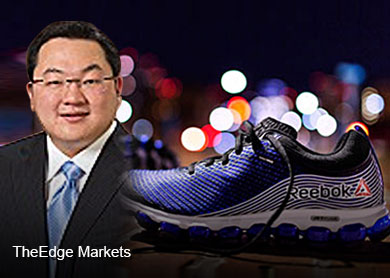 KUALA LUMPUR (Oct 21): Malaysian businessman Jho Low is spearheading a proposed bid to acquire sports footwear company Reebok from Adidas AG for EUR1.7 billion (RM7.1 billion), according to a report in The Wall Street Journal (WSJ).
WSJ, quoting people close to the bidders, reported that Low via his family investment arm Jynwel Capital, had formed a consortium with Abu Dhabi government-linked funds for the bid. It was reported that the consortium planned to write to Adidas directors on the matter.
"The architect of the bid for Reebok is Jho Low, the 32-year-old chief executive of Jynwel Capital. Mr. Low, the grandson of a mining and liquor entrepreneur, is no stranger to big merger deals.
"Jynwel, which invests his family's roughly $1.75 billion fortune, was among groups that purchased New York's Park Lane Hotel for $660 million in 2013 and EMI's music-publishing business for $2.2 billion in 2012. It's unclear which Abu Dhabi fund would partner with Jynwel should the Reebok bid succeed," WSJ reported.
According to WSJ, the bidding consortium initially approached Reebok's management late last year about establishing a joint venture to roll out high-end fitness brands and construct dozens of additional stores in the US and globally.
As the talks progressed, the consortium's ambition for the deal grew, WSJ reported.
"People close to the bidders say the group believes Reebok would benefit from management and ownership that would be better able to focus on reviving the brand's fortunes in the US outside the glare of public shareholders.
"The group wants to continue down Reebok's current strategic path and give the business more financing for marketing and store rollouts. The investors would seek to keep Reebok's top executives, who work out of the business's headquarters in Canton, Mass," WSJ quoted the the people as saying.
According to the news report, Adidas had acquired Reebok in 2006 for some EUR3 billion. Adidas planned to create a footwear and sporting-apparel company which would rival Nike Inc.
Another aim was to give Adidas more heft in the US where it trailed Nike. "Instead, Nike has gained significant ground against both brands since the deal was struck," WSJ said.