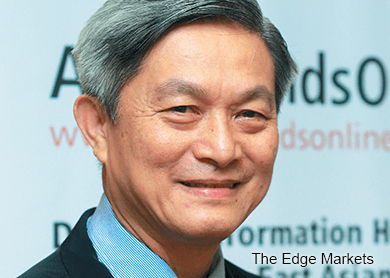 KUALA LUMPUR: The Malaysian bond market is likely to stay stable in the second half of this year, despite an expected hike in interest rate by the US Federal Reserve (Fed).
Dr Yeah Kim Leng, dean of the School of Business at the Malaysia University of Science and Technology, said this is due to the country's stable economic factors such as growth and exports, which are currently being boosted by a weaker ringgit, and relatively stable government debt ratios as well as contingent liabilities.
However, he said an interest rate hike by the Fed will see an initial impact on the bond market's portfolio before stability is achieved.
"The bond market may see a rise in long-term yields," he told reporters after the launch of the Asian Bond Monitor June 2015 quarterly report, organised by the Asian Development Bank yesterday.
"This means that the bond portfolio will take a beating, but after the [Fed] rate hike, there will be normalisation.
"We expect orderly movements in our [regional] capital flows because it would be very damaging to investors themselves otherwise," he said.
He said the long adjustment period given by the Fed suggests that the market has time to adjust to the rate hike.
The Fed is expected to increase interest rates in September, the first in nine years, after an initial expectation of a hike in June was diminished when no changes were announced.
Yeah said Malaysia's government debts and contingent liabilities are still at a manageable level.
"Malaysia's government debts and contingent liabilities are said to be just over 70% of [gross domestic product (GDP)]," he said.
According to a study by economic researchers Carmen M Reinhart and Kenneth S Rogoff, a debt level of between 60% and 80% of a developing country's GDP and a debt level of between 100% and 120% of a developed nation's GDP are manageable.
"Anything that exceeds these thresholds would be a drag on the economies," said Yeah.
"The buffer is still there, but we should not stretch market forbearance too much, we still need to maintain some kind of prudence," he said.
Yeah said the question now is whether the government can settle its debt.
"That itself, if you look at the overall position in terms of reserves, in terms of ability to take on more debts, it is unlikely the government will let any of its obligations fail.
"From a fundamental position, you don't see — unless there is a political crisis — Malaysia being in a position of not being able to pay its foreign obligations, its debt obligations, largely because the capacity is there," he said.
The Asian Bond Monitor June 2015 issue reported that on a year-on-year (y-o-y) basis, the Malaysian local currency (LCY) bond market grew 2.1% in the first quarter of 2015 (1Q15), with government bonds outstanding totalling RM612 billion, a drop of 5.4% quarter-on-quarter (q-o-q) and 0.3% y-o-y, while corporate bonds totalled RM461 billion.
On a q-o-q basis, total LCY bonds decreased 2.7% to RM1.07 trillion at end-March, led by government bonds, and increased 2.1% y-o-y in 1Q15. Sukuk bonds comprised a majority of the LCY bond market with a 53% share at end-March.
Total government bond issuance dropped 65.6% q-o-q in 1Q15 to RM31 billion, primarily due to Bank Negara Malaysia ceasing issuance of its monetary notes, which serves to address excess liquidity in the money supply, amid moderating inflation.
The issuance of central government bonds rose 21.1% q-o-q to RM27 billion, while corporate bond issuance declined 34.7% q-o-q to RM19 billion in 1Q15 from RM28 billion.
Large corporate bond issuers were from the transportation and financial sectors, the report noted.
This article first appeared in The Edge Financial Daily, on June 24, 2015.