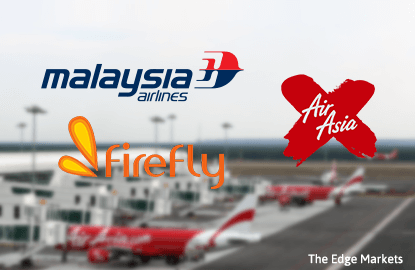 This article first appeared in The Edge Financial Daily, on April 15, 2016.
KUALA LUMPUR: Seven Malaysian air carriers have banded together to form the Association of Malaysian Air Carriers in a bid to provide a platform for common interests on issues affecting the industry.
In a statement yesterday, AirAsia Bhd said the founding members of the association are Malaysia Airlines Bhd, MASwings Sdn Bhd, FlyFirefly Sdn Bhd, AirAsia, AirAsia X Bhd, Malindo Airways Sdn Bhd and Berjaya Air Sdn Bhd. However, the association's formation would be subject to approvals from the respective boards and Registrar of Societies.
"With all the main operators represented, the association will ensure one voice for the airline industry, while representing common industry interests among institutions such as the ministry of transport, the Department of Civil Aviation (DCA) and the Malaysian Aviation Commission," the statement read.
"By joining forces, the association will also promote healthier growth for the industry and create highly qualified jobs, both directly and indirectly, for the sector and the broader aviation ecosystem," it added.
AirAsia said the association, which will be open to all Malaysian air carriers, will deliberate on subjects such as enhanced air traffic control services, aeropolitical concerns, safety and security standards at airports, charging regimes and other related issues.The move comes on the heels of a proposed staggering 10-fold hike in airline operator fees by the DCA, which would cause air navigation flight charges to balloon.
The DCA had justified the move as necessary for the federal agency to fund its upgrade to an "authority", as it relies on Putrajaya for additional funding.
The DCA's announcement was criticised by airlines and travel operators as it would result in soaring fares that would hurt local tourism.
On Wednesday, after a meeting with representatives of airline companies, Transport Minister Datuk Seri Liow Tiong Lai said the DCA will implement a staggered increase in fees for the aviation industry to enable airline players to plan their budgets and avoid the impact on airfares.
Liow had also said the review of fees was inevitable as it had not been done for over 40 years.