This article first appeared in The Edge Financial Daily, on March 27, 2019.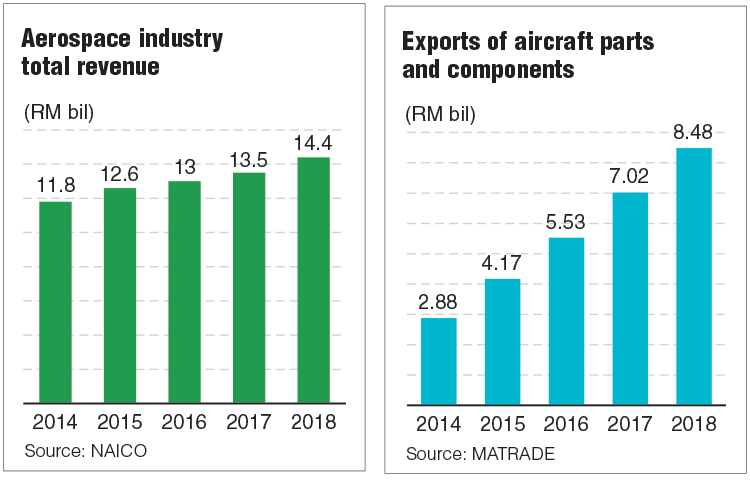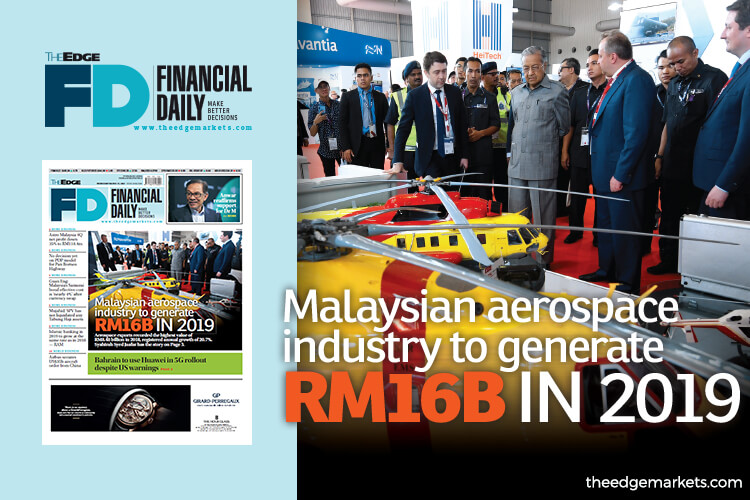 KUALA LUMPUR: The growth in the Malaysian aerospace industry is gaining momentum.
The country's exports of aircraft parts and components have more than tripled from RM2.88 billion in 2014 to a record high of RM8.48 billion in 2018. The growth is mainly driven by expansion of aerospace manufacturing activities. Last year's export growth was at 20.7% (see chart).
Among the locally manufactured aerospace products for export include fan cowl, fan casing, thrust reverser, forward leading edge, aircraft door, avionics equipment and carbon brakes.
The industry generated a total revenue of RM14.4 billion in 2018, up 6.7% from RM13.5 billion in 2017, according to the international trade and industry ministry (Miti).
Its minister Datuk Darell Leiking was quoted by Bernama as saying that the government aims to generate up to RM16 billion in revenue from the aerospace industry this year.
This would be driven by the vibrant and thriving aerospace industry in the Asia-Pacific region, which is expected to have the highest growth in new aircraft delivery for the next decade, he said.
"We would like to see a larger revenue this year.
"(To achieve this,) the government is looking to have better coordination between the National Aerospace Industry Coordinating Office (Naico) and other agencies in providing a better business environment for the industry," Leiking was quoted by Bernama as saying.
In a statement yesterday, Miti said the aerospace manufacturing sub-sector contributed 48% revenue of RM6.97 billion, an increase of 8.3% compared with 2017. Whereas the maintenance, repair and overhaul (MRO) sector recorded RM6.68 billion, representing 46% of the total revenue.
Airbus, which expects Malaysia to remain as its focal point in its supply chain, is looking to increase the value of its supply, source and MRO operations here to US$550 million (RM2.24 billion) a year by 2023, driven by robust demand for aircraft in the region.
Last year, the French aircraft manufacturer's Malaysian operations were valued at US$400 million, according to Airbus Asia Pacific president Jean-Marc Nasr, who spoke to the local media on Monday. Nationwide, the group currently employs 4,000 people, and wants to raise the number to 5,200 in four years.
Another French jet maker Dassault Aviation has chosen the Sultan Abdul Aziz Shah Airport in Subang to build its MRO hub in Southeast Asia instead of the Seletar Airport in Singapore due to the space available for expansion.
Dassault Asia-Pacific president Jean-Michel Jacob told Malaysian media that although Seletar also offers comprehensive infrastructure for business jet MRO operations, Subang has more space available for future growth.
"It also helps that the Malaysian government has identified aerospace "as a strategic industry with wide potential to help the country's industrialisation and technological development", said Jacob at the media briefing on Monday.
In terms of investments, 11 aerospace projects with total investments of RM816.3 million were approved in 2018 of which 41% were foreign investments. The approved projects are expected to generate a total of 2,442 employment opportunities.
"The industry managed to maintain its positive growth since the implementation of the Blueprint 2030 led by Naico, Miti.
"About 24,500 highly skilled workers are currently serving the industry," said the ministry.