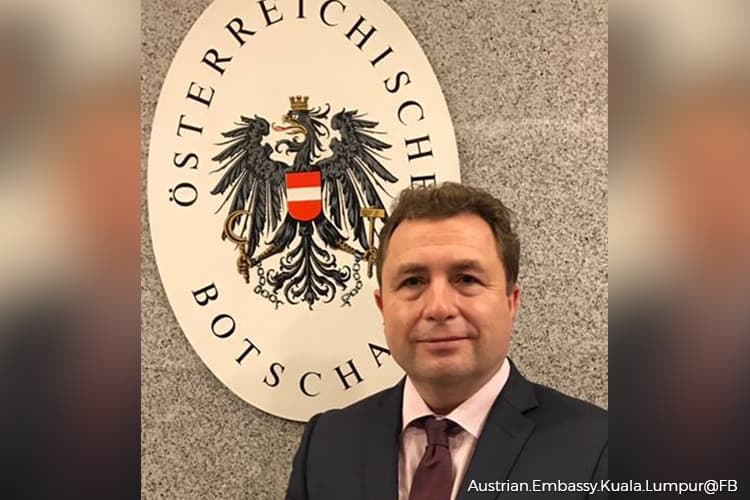 KUALA LUMPUR (Oct 22): The Malaysia-European Union (EU) Free Trade Agreement (FTA), which is in the process of being revived, will further boost economic bilateral ties with Austria.
Austrian Ambassador to Malaysia Dr Michael Postl told Bernama that Malaysia's trade advantages would positively impact the existing bilateral cooperation shared between the two nations through the FTA, of which negotiations on it have yet to be restarted.
At this moment where many countries become victims of escalating tensions and trade war between the United States and China including Malaysia, the FTA initiative could pave solutions for both nations' benefit.
"An FTA would make things easier. If you have an FTA, it might be more attractive for Malaysian companies to settle in Europe because (later) they will have clear standards, (and) rules that will boost the bilateral trade between Europe and Malaysia.
"On another positive angle (too), you (Malaysia) will win a lot, looking into what is the international crisis going on now; the problems between the US and China.
"Both sides, Southeast Asia including Malaysia as well as Europe, have to look for new partners, strong bonds and with Malaysia's strong support on multilateralism, it should be open in the trade and business arena," Postl said.  
Postl said this in an exclusive interview at the news agency's headquarters recently, held in conjunction with the 64th Austrian National Day celebration, observed on Oct 26.
He pointed out that even though Malaysia is still Austria's biggest export market in Southeast Asia and the fifth-biggest in Asia, a dedicated FTA connecting the ASEAN region and Europe would also play a significant role to increase trade and investment activities.
With Malaysia yet to have an FTA with the EU, the envoy described a region-to-region FTA as another best option to encourage it.
"When it comes to economic terms, obviously, what is important for an Austrian company, or any other European companies, is on how the legal system in a given country (in Southeast Asia) and how EU countries are connected to each other.
"I think Malaysia will lose out without an FTA. A region-to-region FTA, therefore, would be, in my personal view, the best option, as long as it is feasible," he said, noting the Austrian embassy also actively facilitates business appointments with Malaysian counterparts if there are requests from Austrian companies.
He also highlighted that Vienna, being home to several international organisations' headquarters namely the United Nations, the International Atomic Energy Agency (IAEA) and the Organisation of the Petroleum Exporting Countries (OPEC), offers the Malaysian government an opportunity to tap into the Austrian market.
"We are fortunate to have all these headquarters and I am encouraging both sides' politicians and high officials to continue working together in exploring and penetrating the potentials offered in each nation's market," he said.
To date, the EU has FTAs with Vietnam and Singapore, and is currently negotiating with Indonesia and the Philippines.
Bernama reported early this year that the current volume of trade between Malaysia and Austria stood at about €860 million (RM4.02 billion) yearly, with 70 companies operating in Malaysia.