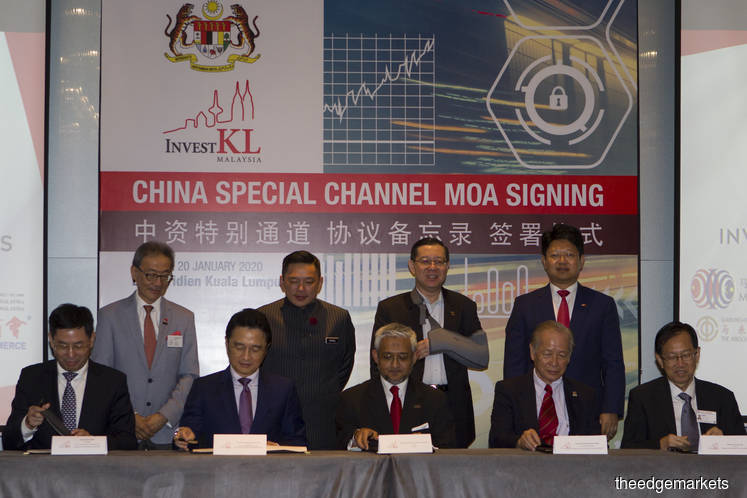 (From right, back row): China's Ambassador to Malaysia Bai Tian, Finance Minister Lim Guan Eng and International Trade and Industry Minister Darell Leiking at the signing of the 'China Special Channel' between InvestKL and Chinese business chambers here today. (Photo by Patrick Goh/The Edge)
KUALA LUMPUR (Jan 20): Malaysia and China's bilateral trade has hit another record high, rising to US$124 billion (about RM503 billion) for the full year 2019, said China's Ambassador to Malaysia Bai Tian.
Citing Chinese customer statistics, Bai said this is a 14.2% increase in bilateral trade from 2018's figure of US$108.66 billion (RM443 billion). China remains Malaysia's largest trading partner, followed by Singapore and the United States.
"Part of the huge bilateral trade is linked to the investments coming in, because when Chinese investors come to Malaysia to set up factories, they buy equipment from China. Once production increases, a portion of those products are then sold back to China in large percentages.
"I believe that will continue to boost bilateral trade going forward this year. Furthermore, 2020 is also the China-Malaysia cultural and tourism exchange year, so with more people coming in, Chinese investors will then have a better understanding of the country and this should encourage them to invest," Bai told a press conference today at the signing of the 'China Special Channel' between InvestKL and Chinese business chambers.
Earlier, InvestKL, a government investment agency under the International Trade and Industry Ministry, launched the China Special Channel (CSC) by signing a memorandum of agreement with four chambers of commerce and business councils — Malaysia-China Business Council, China Enterprises Chamber of Commerce in Malaysia, The Associated Chinese Chambers of Commerce and Industry of Malaysia, and Malaysia-China Chamber of Commerce.
CSC was first announced by Finance Minister Lim Guan Eng during the tabling of Budget 2020 last October, as the ongoing trade war between the US and China created a unique opportunity for Malaysia to be the preferred destination for high value-added foreign direct investments.
In his opening speech at the event earlier today, Lim said the channel will focus on attracting and supporting Chinese companies and global multinational corporations located in China looking to set up new base in order to expand into ASEAN, other parts of Asia or to the rest of the world.
"The CSC will be in the position to understand the investors' needs and to aid them in navigating the idiosyncrasies of a new country. All applications will be expediently accelerated through the right channels and agencies, which would include Malaysian Investment Development Authority (MIDA), Malaysia Digital Economy Corp (MDEC), regional and state investment promotions agencies, as well as various chambers of commerce and business associations." he said.