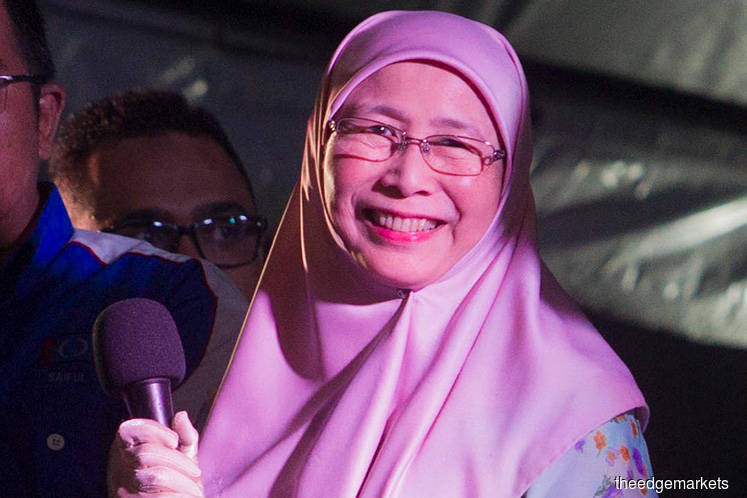 BEIJING (July 9): Malaysia and China have agreed to step up collaboration on Technical and Vocational Education and Training (TVET) to meet Malaysia's human capital needs. 
Deputy Prime Minister Datuk Seri Dr Wan Azizah Wan Ismail said the agreement was reached during her meeting with her Chinese counterpart Sun Chunlan, in conjunction her four-day visit to China which began Monday. 
She said among efforts that could be taken include encouraging strategic cooperation between Chinese companies in Malaysia and local institutions of higher learning specifically on TVET. 
"I suggested that China recognise more local and foreign universities in Malaysia to attract a higher number of students and researchers from China," she said in a statement Tuesday. 
As for agriculture and agro-based industry, Dr Wan Azizah said China on its part had agreed to strengthen cooperation with Malaysia on research and development (R & D) in agriculture.
"Sun also said that the Chinese government is willing to import more agro-commodities from  Malaysia, including palm oil and rubber," she said.
Meanwhile, in the field of disaster risk management and mitigation, Dr Wan Azizah, who is also the chairman of the National Disaster Management Agency (NADMA), said Malaysia and China have agreed to share best practices, exchange visits between officers, conduct joint training and share knowledge.
She said the agreement was reached during her meeting with National Advisor Wang Yong who is   responsible for disaster management in China.
"We have agreed that Malaysia and China cooperate in this field, especially in science and technology in disaster risk reduction," she said.
She said the Chinese government also agreed to share their experience in the restructuring of nine departments and agencies to form a ministry named as the Ministry of Disaster Management that was done as a result of a major earthquake in 2008.
Earlier,  Dr Wan Azizah had taken the opportunity to visit the Dongsi Mosque which is one of the oldest mosques in Beijing, more than 600 years old,  which also houses the headquarters of the Beijing Islamic Association.
"At the Dongsi Mosque, I met Sheikh Hasan Yang Faming, chairman of the Beijing Islamic Association.
"In a discussion with Sheikh Hasan, I told him Malaysians are always interested and concerned about the affairs of the Muslim communities in foreign countries. My visit to the Dongsi mosque was to learn more about the Muslim community in China," she said. — Bernama