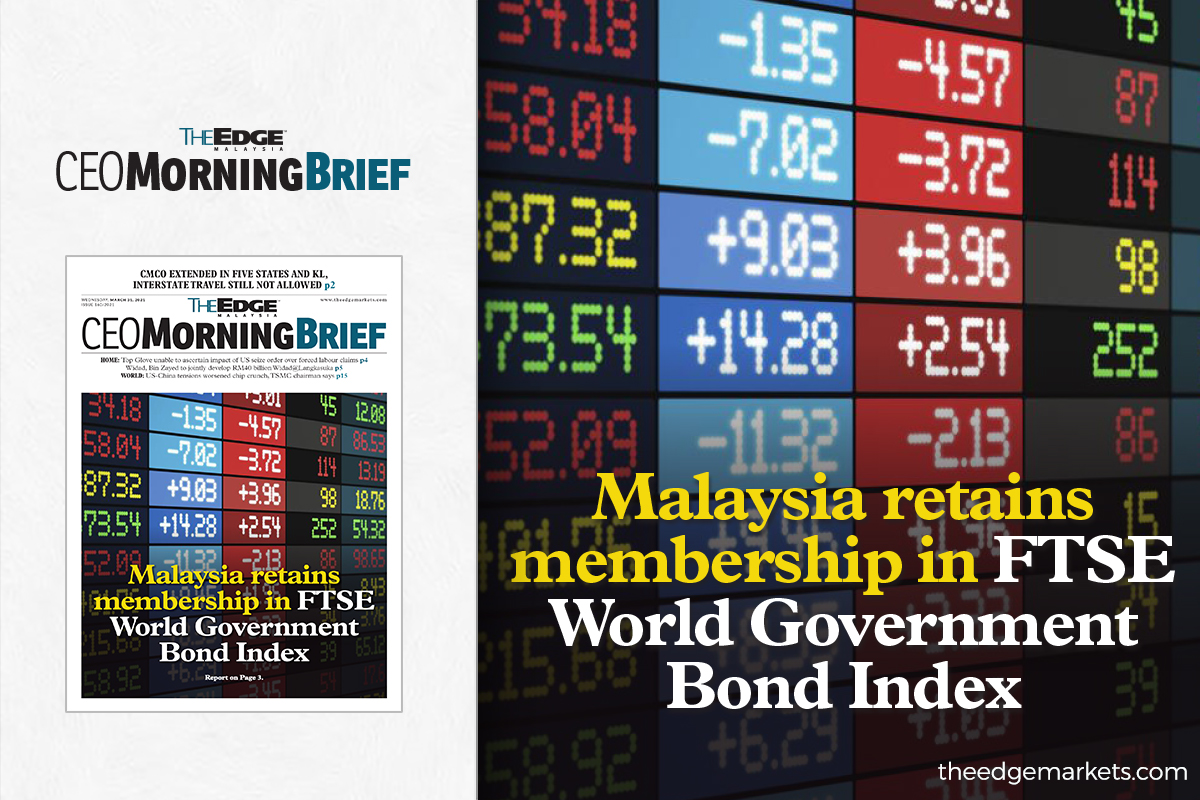 KUALA LUMPUR (March 30): Malaysia will be removed from the FTSE Russell Watch List for potential reclassification of its market accessibility level from "2" to "1" and will retain its membership in the FTSE World Government Bond Index (WGBI).
In its FTSE Fixed Income Country Classification Announcement for March 2021 released yesterday, index provider FTSE Russell commended Bank Negara Malaysia (BNM) on the latter's previously implemented and ongoing initiatives to address the concerns of foreign investors when accessing the Malaysian government bond market.
It noted that recent market enhancements include, but were not limited to:
• Improving secondary market bond liquidity through significantly more reopenings in 2021 of Malaysian Government Securities (MGS) issuances, a commitment to switch, as needed, illiquid bonds out and replace with more liquid bonds, making more MGS available via repo, thus facilitating a marked increase in trading volumes and introducing physical settlement (with the option of cash settlement) of MGS futures, providing an additional interest rate hedging avenue, whilst aiming to simultaneously boost underlying bond liquidity; and
• Enhancing the foreign exchange market structure and liquidity through increased price transparency after local trading hours via the now permanent Appointed Overseas Office (AOO) programme, expanding the dynamic hedging programme to include Japanese trust banks and global custodians and streamlining the FX (foreign exchange) documentation and due diligence process.
"FTSE Russell is grateful for the very constructive engagement that has taken place with BNM and the number of positive initiatives that have been introduced over the last two years.
"FTSE Russell strongly encourages BNM to continue efforts to enhance the experience of international participants in the Malaysian fixed income market," it said.
Meanwhile, FTSE Russell said Chinese Government Bonds will be included in the FTSE WGBI, with inclusion to be phased into the index over a period of 36 months, commencing with an effective date of Oct 29, 2021.
It explained that the market accessibility level of China would be reclassified from "1" to "2" as of the March 2021 review.
FTSE Russell said China will also be added to indices that derive their membership from the WGBI, including the FTSE World Broad Investment-Grade Bond Index (WorldBIG) and thematic offerings such as the FTSE Climate Risk-Adjusted WGBI.
FTSE Russell also announced that India and Saudi Arabia will be placed on the Watch List for potential reclassification of their market accessibility level from "0" to "1", and consideration for inclusion in the FTSE Emerging Markets Government Bond Index (EMGBI).
Commenting on the latest development, UOB Global Economics & Markets Research said to pave the way for China's inclusion in the WGBI, Malaysia's weight in the index would be pared by 0.02% to 0.39%.
UOB's Julia Goh and Loke Siew Ting said Malaysia was placed on FTSE's Watch List in March 2019 for a potential exclusion.
They said since then, cumulative foreign flows into Malaysia's government bonds totalled RM41.6 billion (April-December 2019: RM15.6 billion; 2020: RM17.2 billion; January-February 2021: RM8.8 billion).
"Foreign holdings of Malaysia's government bonds rose to 24.7% in February 2021 (from 21.9% in April 2019).
"This suggests that Malaysia's government bonds remain attractive and supported by stable macro fundamentals," they said.
Read also:
China bonds set to draw billions of dollars after FTSE WGBI approval 
FTSE's decision to retain Malaysia's in WGBI is testament to country's strong macroeconomic fundamentals, says MOF