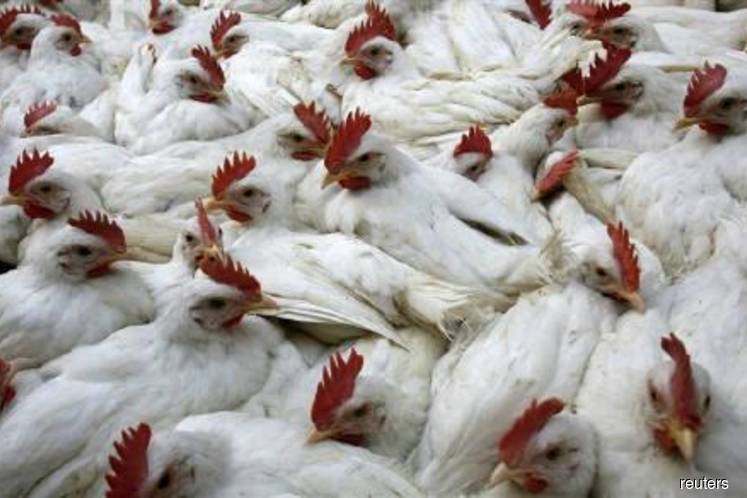 KUALA LUMPUR (Aug 15): Dept of Veterinary Services Malaysia (DVS) director-general Datuk Dr Quaza Nizamuddin Hassan Nizam will travel to Indonesia to explain to his counterpart there about the recent bird flu outbreak in Tuaran, Sabah, after Indonesia, the world's largest Muslim nation, banned the imports of poultry from Malaysia.
Speaking to reporters in Parliament today, Deputy Minister of Agriculture and Agro-Based Industry Sim Tze Tzin said after the first outbreak in Tuaran on July 27 this year, DVS had taken all necessary steps to contain the bird flu, and as at Aug 11, no new outbreak was found.
"The whole issue is being professionally handled. There is no reason to panic, especially the stock market. It is unfair to most of the poultry operators in Peninsular [Malaysia], because it only happened in one place, [so] it is unfair to think this is a major outbreak and punish everyone. The bird flu has been contained, [and] we are monitoring [the situation] very closely," he said.
"Now Indonesia has initiated the ban, we will go there and explain to them, usually our director-general will be the one travelling there. [He will explain] that it was only one particular place where we detected the bird flu, and that [poultry from] the rest of Malaysia is safe to consume," he added.
In total, Sim said DVS has culled 31,140 birds because of the Tuaran outbreak, with 3,985 eggs destroyed, after 358 samples were taken. There are now 104 premises as well as over 30 villages undergoing active surveillance.
"We have taken necessary and transparent steps to cull the birds, and necessary reporting to international bodies. Any farm, when they found any unusual death of birds, they will report to DVS, and DVS officers will take samples from the reported area.
"If there is a possibility of bird flu, they will cull all the birds within a 1km radius. And from the 1km to 5km radius, they will quarantine for surveillance, to prevent any movement of the birds," he explained.
"As of now there is no worry of [further] outbreak. We had one similar experience in Kelantan last year, so our officers are experienced in this. Within four months, all things were cleared in Kelantan last year. All these show that the government is very serious in containing the outbreak," he added.