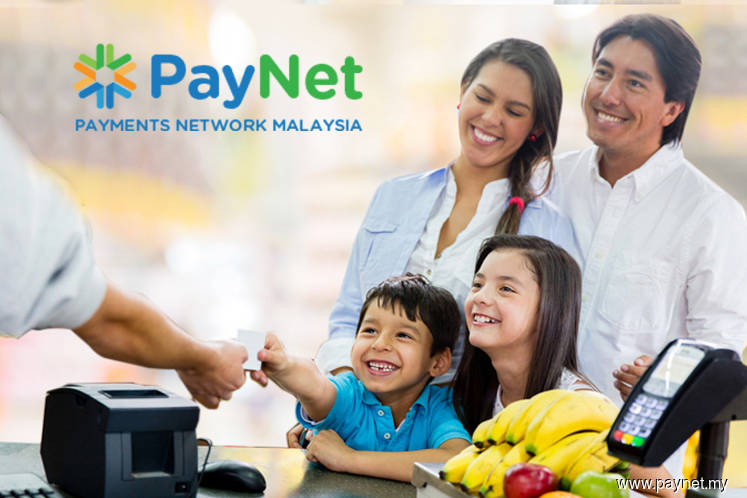 KUALA LUMPUR (Jan 11): The Malaysian banking sector has hopped onboard the cashless bandwagon with Payments Network Malaysia Sdn Bhd's (PayNet) implementation of the real-time Retail Payments Platform, setting in place the foundation to accelerate the growth of cashless payments in the country.
PayNet — which has Bank Negara Malaysia (BNM) as its largest shareholder and other major banks in Malaysia as joint shareholders — is pushing on with the implementation of interoperable quick response (QR) code initiative, which will allow participating e-wallet services to use a single QR standard for payments for goods and services.
This means that consumers would not need to switch between the different services provided by banks such as Maybank's QRPay and CIMB's CIMB Pay, and non-banks such as Boost and Favepay to make payments, as merchants will display a single QR code that will be compatible with multiple e-wallet services.
PayNet had launched DuitNow — an instant credit transfer service allowing consumers to send money between accounts under different banks by using mobile phone numbers or other identification numbers — last month, an example of how RPP can accelerate the development of Malaysia's payments ecosystem. 
PayNet group chief executive officer Peter Schiesser said the launch of DuitNow was an important milestone in efforts to modernise Malaysia's payments ecosystem, with the company proceeding to enable the inter-operability of QR payments this year.
"As you know, there are a lot of e-wallet players in the market provided by both banks and non-bank players. It won't do much good if a consumer has one of these e-wallets, but not being able to use it for all merchants.
"In payments, if you don't have ubiquity, things will eventually die off," he said during a media briefing today.
Schiesser said the interoperable QR codes will come into force in June this year. Following this, PayNet intends to roll-out other services related to payments collection by leveraging on RPP, which will likely be implemented in 2020.
This includes the ability for consumers to set e-mandates to grant authority to service providers, such as Telekom Malaysia Bhd for example, to be able to automatically debit users' accounts when payment is due.
Secondly, PayNet is looking to implement real-time direct debit, which would open up the ability of prepaid services, such as for Touch n' Go cards to be automatically topped up when the balance goes down to a certain limit.
Thirdly, the RPP opens up the ability for request-to-pay, where a service provider like Tenaga Nasional Bhd could automatically send a request for payment for an electricity bill that is due in the form of an alert on a user's mobile phone.
The user can then access their respective banking app to pay the bill at their leisure.
This function can also be used between users, whereby one user can request a payment from another user.
"These are the sort of things that can be done with these intrinsic functions. They serve purposes in themselves but these different functions can also be combined and used in different ways," said Schiesser.
However, he said Malaysians are currently still very much reliant on cash as a force of habit, seeing as consumers are too comfortable with paying for goods and services with physical money, which has been a factor behind the relatively slow adoption of e-payments.
He opined that the government plays an important role in changing the habits of consumers.
"In certain aspects, the government has adopted e-payments but what I would like to personally see is for the government to do more around this. If the people get to interact more with the government through electronic means, the more likely it will be that they would use it elsewhere in their lives.
"The government has been making some steps but I would really like to see if they can push it a bit more. The current government has been quite supportive of e-payments, so hopefully, we will move in that direction," Schiesser said.
Beyond Malaysia, PayNet is also looking to enable cross border instant credit transfer and peer-to-peer payments, with an initial focus on Southeast Asia.
While there have been talks with neighbouring countries including Singapore, Thailand and Vietnam, Schiesser said developments have been rather slow.
"Things have been going a bit slower than we would like. There are no regulatory barriers for us to link the different nations' systems, but it's just that the countries are really focused on their own agendas — on developing their respective infrastructures," he said.