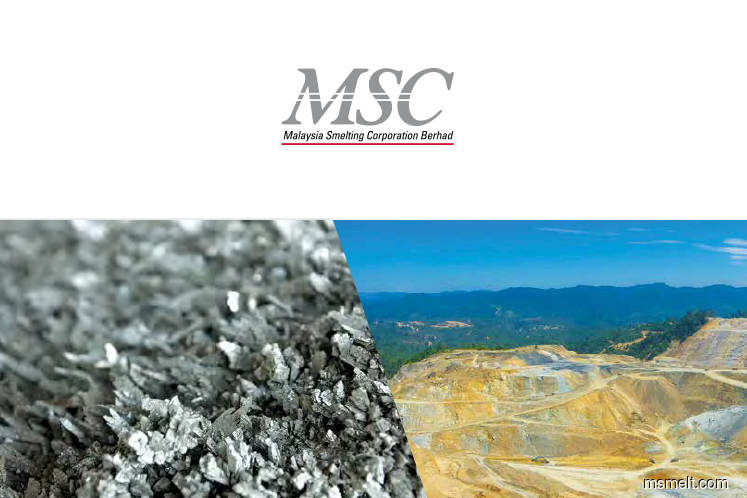 KUALA LUMPUR (May 8): Tin miner and metal producer Malaysia Smelting Corp Bhd (MSC) saw its net profit fall 63.7% to RM4.58 million for its first financial quarter ended March 31, 2018 (1QFY18) from RM12.62 million a year ago, dragged down by its loss-making tin smelting segment and the strengthening of the ringgit against the US dollar.
This resulted in lower earnings per share of 4.6 sen in 1QFY18 compared with 12.6 sen in 1QFY17. Quarterly revenue was also down 12.2% to RM356.95 million from RM406.61 million a year ago, due to lower sales quantity of refined tin in 1QFY18.
In a filing with Bursa Malaysia today, MSC noted that while average tin prices on the Kuala Lumpur Tin Market increased in 1QFY18 in US dollar terms, this was offset by the strengthening of the ringgit against the US dollar.
MSC's tin mining division contributed a pre-tax profit of RM9.9 million whilst the tin smelting division recorded a pre-tax loss of RM2.2 million for 1QFY18.
MSC chief executive officer Datuk Dr Patrick Yong said the performance of the group's tin smelting division continues to be affected by the inefficiencies of aged equipment at the Butterworth smelting facility.
"This has resulted in higher operating expenses and production costs due to lower recovery yields.
"Furthermore, operating costs have increased as the group has commenced small scale refinery work as part of our testing and commissioning process at the group's new plant in Pulau Indah, Port Klang," he said in a separate statement today.
"As we are in the early stages, we will be operating both smelters concurrently until the new smelter reaches a stable state," he added.
However, the group is confident that its performance will improve once production commences at the Pulau Indah plant and production at the Butterworth plant is phased out.
"Once the new smelter is fully operational, we expect recovery yields, production and cost efficiencies to be enhanced significantly," said Yong.
As at March 31, 2018, MSC's total borrowings decreased by 6.3% to RM424.5 million due to lower utilisation of short-term trade financing facilities. Gearing improved to 1.4 times from 1.6 times as at Dec 31, 2017.
MSC shares closed unchanged at RM3.26 today, for a market capitalisation of RM327 million.