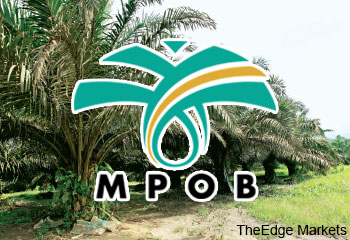 KUALA LUMPUR (Oct 10): Malaysia's palm oil inventory in September rose 1.79% to 2.09 million tonnes, from 2.05 million tonnes in the preceding month, according to data released by the Malaysian Palm Oil Board (MPOB).
The palm oil inventory comprises crude palm oil (CPO) and processed palm oil.
MPOB said in a statement on its website today that CPO production however, fell 6.64% to 1.9 million tonnes, from 2.03 million tonnes. Palm oil exports climbed 13.27% to 1.63 million tonnes, from 1.44 million tonnes.
The September palm oil inventory figure compares with a median forecast of 2.05 million tonnes, based on a Reuters survey involving seven planters, traders and analysts.
 
Reuters reported poll participants estimated Malaysia's CPO output in September likely dropped 8% to 1.87 million tonnes, after a 22% surge in August.
 
Overseas sales of palm oil products by the key producer likely hit 1.6 million tonnes last month, the survey showed, up 11.3% from a month ago as buyers from India, China and Europe snapped up shipments after Malaysia scrapped taxes on CPO exports for September and October.
In a research report today, UOB Kayhian said "CPO price was likely to remain under pressure, due to the anticipated bumper rival soybean crop in the US and weaker-than-expected biodiesel demand growth from Indonesia."
 
UOB Kayhian retained its CPO price assumptions at RM2,600 and RM2,800 a tonne in 2014 and 2015 respectively.
CPO futures had risen to RM2,182 a tonne yesterday, from RM1,914 a tonne on September 2 this year.
These prices compare with RM2,659 a tonne on December 31, 2013.
UOB KayHian said the recent CPO price recovery on better demand from India, Europe and bioenergy buyers could be short-lived, as prices remain capped by its relative value to soy oil.
"We think soybean prices could be under another round of pricing pressure, once the crushing of the record crops starts."