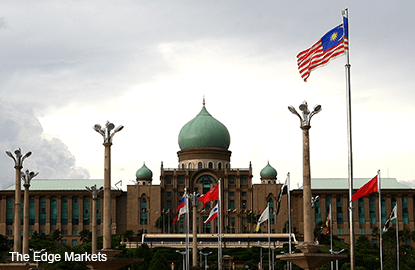 KUALA LUMPUR/SINGAPORE (Aug 21): Malaysia's international reserves have dropped again, a slide that's beginning to worry some economists and investors as the ringgit continues to weaken.
Currency reserves fell to $94.5 billion as of Aug. 14, Bank Negara Malaysia (BNM) said on Friday, from $96.7 billion as of July 31 and $100.5 billion a month ago.
Reserves are at their lowest level since September 2009.
In a statement, BNM said the reserves are sufficient to finance 7.5 months of imports. Two weeks ago, it said reserves could cover 7.6 months.
Economists disagree on what's a safe level of import-cover for reserves. Long ago, many considered three months safe, but with greater global capital flows, some consider the minimum six months.
Khoon Goh, senior FX strategist for ANZ in Singapore, said Malaysia has the lowest import cover ratio in the region, and that is "a source of vulnerability".
"If you have a big war chest, the market knows you have the ability to step in so they are more cautious," he said. "In the case of Malaysia, markets know their intervention capability is limited."
Andy Ji, Asian currency strategist for Commonwealth Bank of Australia in Singapore, said Malaysia's reserves are adequate to satisfy redemption needs but onshore dollar demand is likely to be "overwhelming".
He said Malaysia will later need to impose some foreign-exchange control for onshore dollar-buying.
On Thursday, Prime Minister Najib Razak and BNM Governor Zeti Akhtar Aziz said Malaysia would not impose capital controls or peg the ringgit against the dollar.
"There's no intention of moving to a less flexible regime like a peg exchange rate regime," Zeti said.
Malaysia last pegged the ringgit to the dollar at 3.8 in 1998, and that remained until 2005.
On Friday, the ringgit hit a fresh pre-peg 17-low year, losing as much as 1.1 % to 4.1830 per dollar.
Multiple presssures
The ringgit has lost more than 16 % against the dollar this year, making it emerging Asia's worst-performing currency.
On Thursday, Zeti said the reserves are used as a "buffer" during difficult periods.
A protracted political crisis, slumping commodity prices and an investor exodus from emerging market assets have all undermined the ringgit's appeal, and pressure intensified after China's surprise yuan devaluation.
The domestic crisis follows allegations of graft and financial mismanagement involving a state fund whose advisory board is chaired by Najib.
BNM has maintained the country's economic fundamentals are sound. Malaysia grew 4.9 % in the second quarter, beating expectations.
Saktiandi Supaat, head of FX research at Maybank Investment, said he does not expect the reserves to drop sharply below $90 billion, and his year-end forecast for the ringgit is 4.05 to the dollar.
"The weaker ringgit will probably support exports and give a trade balance boost," he said.