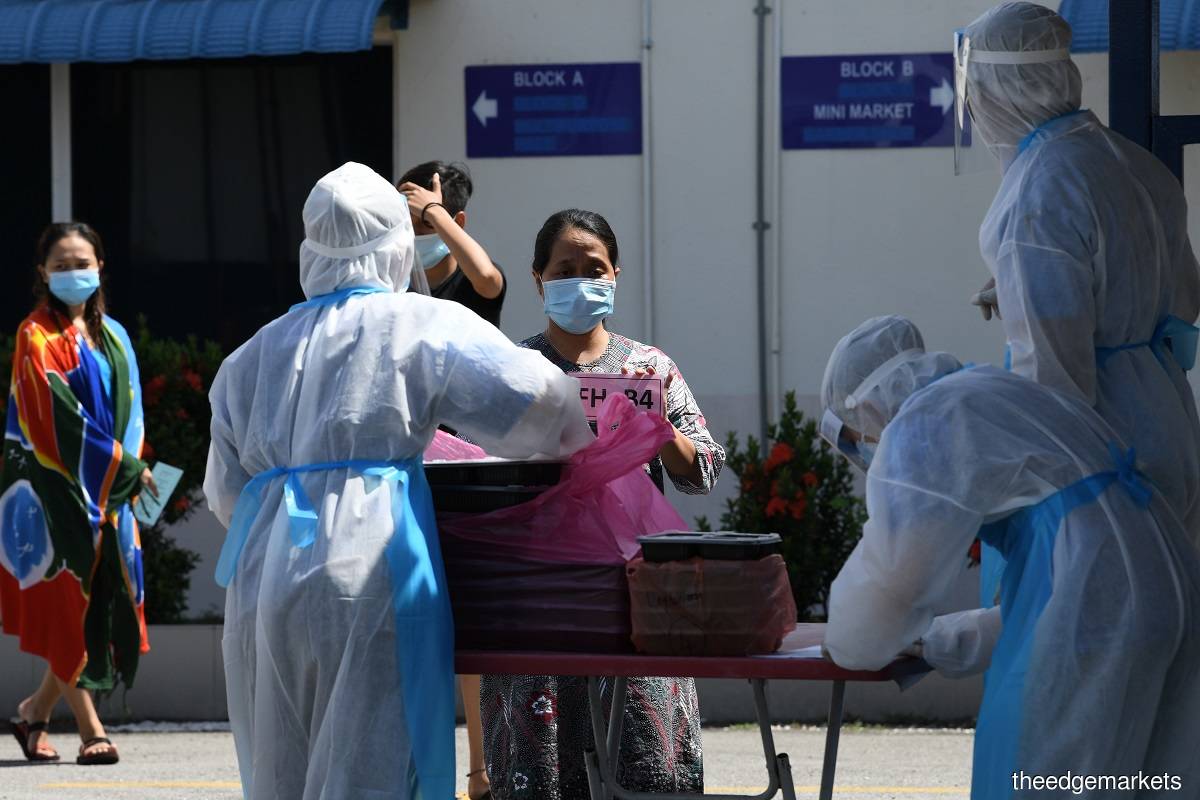 KUALA LUMPUR (Nov 30): Malaysia today reported 1,212 new Covid-19 cases, pushing total infections in the country to 65,697 — marking four straight days of four-digit cases, according to the Ministry of Health (MoH).
Three new deaths related to the pandemic were reported in Kedah, Labuan and Sabah. These brought the nationwide death toll to 360. The deceased were three men aged between 22 and 66 years, who had health complications such as low immunity, high blood pressure, gout and chronic kidney disease.
Selangor topped the list of most Covid-19 cases with 402, where 308 (76.6%) of them came from the existing and new Covid-19 clusters and screening of close contacts of Covid-19 positive patients, said Health director-general Tan Sri Dr Noor Hisham Abdullah at a media briefing today.
Sabah, meanwhile, was the second-worst hit state, with 326 new cases, followed by Negeri Sembilan with 119 cases.
Dr Noor Hisham said 101 cases were confirmed from the Covid-19-related prison clusters. Of these, four clusters were in Sabah, namely the PTS Sibuga cluster with 65 cases, the PTS Tawau cluster with eight cases, the Matambai cluster with three cases, and the Sandakan prison cluster with one case.
Meanwhile, the Tembok cluster in Kedah has 23 cases, while the Seberang Perai Prison cluster has one case.
As the number of recoveries surpassed new cases at 2,112, the tally of active cases fell to 10,578. Total recoveries, meanwhile, stood at 54,759.
Three new clusters detected today
Dr Noor Hisham also announced three new Covid-19 clusters today with 54 total infections.
The three new clusters:
• Jalan Lapan cluster involving Hulu Langat in Selangor as well as Cheras, Kepong, Titiwangsa and Lembah Pantai in Kuala Lumpur (25 cases)
• Batu Sembilan cluster which spans Kuala Langat, Klang, Petaling and Kuala Selangor in Selangor (19 cases)
• Nibong cluster in Johor Bahru, Johor (10 cases)
In total, 362 clusters have been reported by the MoH so far. Meanwhile, five clusters were declared ended today as no new cases were reported in 28 days.
These included the Sofi cluster in Negeri Sembilan, the Tapah Prison cluster in Perak, the Kapor cluster in Sabah, the Jambu cluster in Selangor, and Meldrum cluster in Johor.
Read also:
Top Glove-linked Teratai cluster reports 18 new cases today, with total now at 4,278
Tan Choe Choe & Lam Jian Wyn