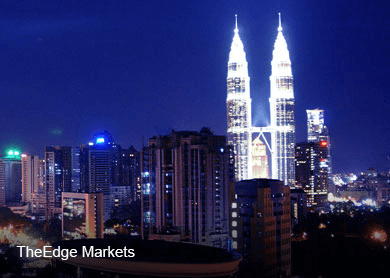 SINGAPORE/KUALA LUMPUR (Apr 14): Malaysia is tapping the U.S. dollar bond market for the first time in four years as it burns through foreign-exchange reserves defending Asia's worst currency.
The government is poised to sell as much as $2 billion of Islamic notes this week, one month after state-owned Petroliam Nasional Bhd. issued a record $5 billion of sukuk and conventional debt in the U.S. currency. Malaysia's foreign currency holdings fell 9.4 percent this year, the steepest first-quarter loss since the 1997 Asian financial crisis. The ringgit dropped 5.4 percent, compared with a 4.6 percent slump in the Indonesian rupiah.
"Foreign exchange reserves have certainly been under pressure for some time, as the central bank has been defending the currency in an environment of near-consensus expectations of further weakness in the ringgit," said Prashant Singh, the Singapore-based lead portfolio manager for Asian emerging debt at Neuberger Berman Group LLC, which manages $250 billion globally. "These offshore issuances do appear to be quite conveniently timed to provide a boost to the reserves."
Malaysia, Asia's only major oil-exporter, has seen the cost of insuring its debt soar the most in the region this year as a slump in crude prices forced the government to raise its 2015 budget deficit target. The yield premium on its existing dollar bonds over Treasuries has jumped 23 basis points this year to 123, as Fitch Ratings Ltd. warned it may cut the nation's debt ranking and state investment company 1Malaysia Development Bhd. was reorganized to curb its liabilities.
Officials from the Prime Minister's and Second Finance Minister's offices didn't respond to a phone call and text seeking comment Monday.
Ringgit Rout
Foreign reserves plunged to $105 billion at the end of March, a $25 billion drawdown from a year earlier and the steepest slide among Asia's large economies during that period. Its currency has tumbled 15 percent since June as Brent crude fell about 50 percent, with the ringgit closing at its lowest since 2006 last month.
"The sharp decline in foreign exchange reserves started close to December and it was a result of upward pressure in the dollar-ringgit exchange resulting from a sharp decline in oil prices," said Rohit Arora, an Asia interest rates strategist at Barclays Plc in Singapore. "The central bank might have smoothened the exchange rate volatility, resulting in a decline in reserves."
Lawmaker Concern
Malaysia hired HSBC Holdings Plc, CIMB Group Holdings Bhd. and Standard Chartered Plc to arrange its sovereign sale, people familiar with the matter said last month. It's tapping investors before the Federal Reserve starts raising interest rates this year and as lawmakers express concern about 1MDB's rising debt levels. The deal could price as soon as this week, people familiar with the matter said Monday.
The offer may prove good timing for buyers. Malaysia is poised to report strong economic growth for the first quarter as consumers splurged ahead of the April 1 implementation of a goods and services tax, Wan Kamaruzaman Wan Ahmad, the chief executive officer of Kumpulan Wang Persaraan (Diperbadankan), Malaysia's second-biggest pension fund with $27 billion in assets, said by phone Friday in Kuala Lumpur.
"I am trying to get a piece of the action as I expect the spread to narrow," Wan Kamaruzaman said. "The 1MDB issue won't have much impact because it's already being factored in."
Approval Slides
Prime Minister Najib Razak has faced calls from former premier Mahathir Mohamad to step down. The head of the ruling United Malays National Organisation has seen his approval rating slide to about 40 percent as he seeks to undertake unpopular economic measures to plug the budget gap and soothe concerns surrounding 1MDB.
Amid the political noise, foreign ownership of Malaysian local bonds dropped to the lowest since August 2013 in March, data compiled by Bloomberg show, placing further strain on the currency. The government will be hoping to woo back some of those buyers this week.
"I suspect these deals are used to build reserves, but also to continue to meet the interests of investors worldwide," Jonathan Lemco, a fixed-income money manager and principal at Vanguard Group Inc., the world's biggest mutual-fund company, said in an April 9 e-mail. "They are opportunities to meet the sovereign's borrowing needs at attractive rates."