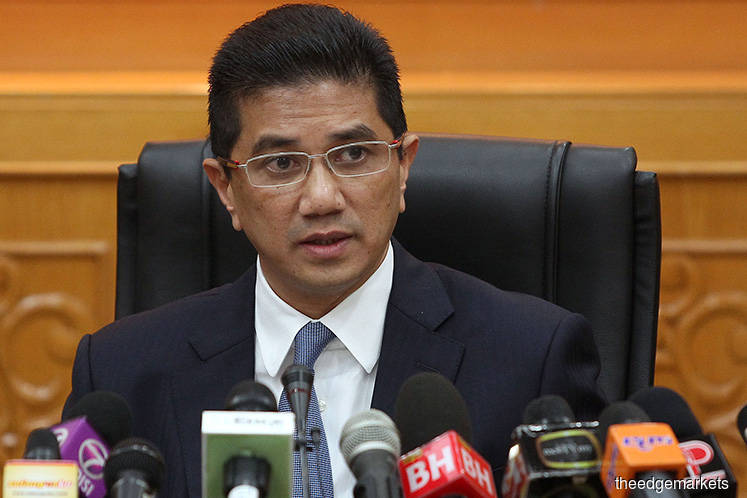 PUTRAJAYA (Sept 5): Minister of Economic Affairs Datuk Seri Mohamed Azmin Ali said Malaysia will be obliged to pay about S$15 million to Singapore by end-January next year as cost to defer the Kuala Lumpur-Singapore High Speed Rail (HSR) project.
At a joint press conference with Singapore Minister of Transport Khaw Boon Wan today, Azmin said this was the outcome of the discussions by officials from both countries on Aug 27 and 28.
"Both parties have met on Aug 27 and 28 to discuss every details, every single item. And finally both parties agreed that the cost needed to be paid by Malaysian government [amounted] to about S$15 million, and that need to be paid before end of January 2019, so we still have some space," he said.
"In the event we cancel the project, certainly we will meet and discuss, but I do not want to jump to the conclusion because the agreement signed today clearly stated our commitment to continue with the project, after May 2020," he said.
Azmin said the negotiations done between both countries were conducted in a "frank and thorough" manner.
"The negotiations have been very frank and thorough between Minister Khaw and myself, as well as officials from both sides. We all worked tirelessly to bring about a resolution that is mutually beneficial.
"When I first met Minister Khaw on Aug 11, I presented that we would like the project to be postponed [for] at least three to four years, based on the prevailing economic condition in Malaysia," he said.
"I am glad that Minister Khaw and the team view our position positively. Then when we met again in Kuala Lumpur a week later, Minister Khaw came back with [the] position that Singapore [is] willing to consider a period of one year. Certainly I need to discuss again with the Cabinet, before I went back to Singapore to appeal to our friends in Singapore to consider a longer period.
"I agree with Minister Khaw that if the deferment period is beyond two years, the business model would change, and the cost would continue to escalate, so based on our negotiations via various meetings, we agreed to two years of deferment period," Azmin added.