This article first appeared in The Edge Financial Daily, on September 4, 2019.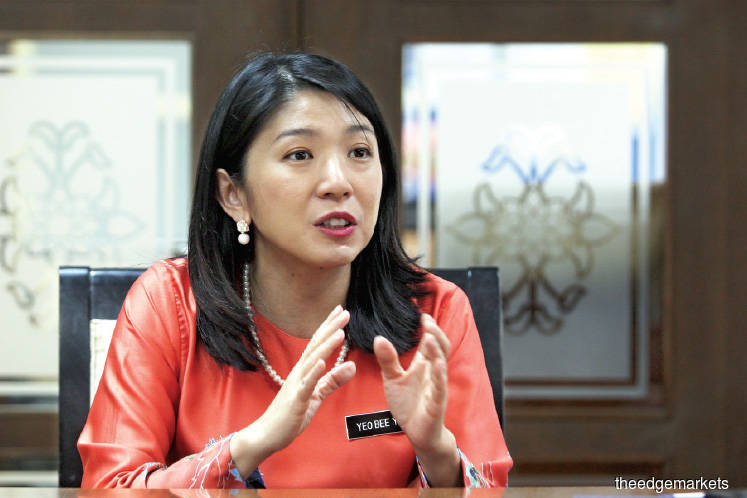 KUALA LUMPUR: Malaysia will need RM33 billion worth of investments to boost the renewable energy (RE) part of the country's energy generation mix from the 2% recorded in 2018 to 20% by 2025, according to Energy, Technology, Science, Climate Change and Environment Minister Yeo Bee Yin (pic).
The investment needed to reach the RE target, which excludes power generated from large hydropower generators of more than 100 megawatts (mw), will not come solely from the government, but also from public-private partnerships as well as private financing.
"We are looking at how to incentivise more RE investments. One of the things we are focusing on, besides regulatory framework [and] policies, is financing. That is why the government has come up with this green financing plan... The RM33 billion of investments cannot purely rely on government funds, we need to incentivise private financing.
"The Securities Commission has already done a six-month study on green financing. They formed a green financing task force and gave a report on 21 action items to facilitate the RM33 billion investments in RE. The government will look through all the action items and implement [them] accordingly," Yeo said.
Part of the government's efforts to incentivise private financing include institutional reforms, besides continuing with existing government incentives like the Green Technology Financing Scheme, Green Investment Tax Allowance and Green Income Tax Exemption, to help RE players, she added.
Yeo was speaking to reporters after officiating the inaugural 5-in-1 Power and Energy Series here yesterday, where she shared updates about the third cycle of the large-scale solar (LSS3) scheme, which is currently under technical evaluation, following the completed price ranking process undertaken by the Energy Commission.
She said Malaysia's energy industry will start seeing a more competitive and diversified power generation mix as bidding under the LSS3 scheme showed that solar-based electricity generation is cheaper than gas-based power production.
"The first four projects, which amount to 365mw out of the 500mw, were bid at prices lower than the gas[-based power] generation cost, which is 23.22 sen [per kilowatt hour (kWh)] right now, with the lowest being 17.77 sen per kWh.
"The 500mw will likely close below 24 sen [per kWh], pending the technical evaluation, which is a very sharp reduction and good improvement compared to LSS2," Yeo said, adding that the reference price from LSS2 was 32 sen per kWh.
The lower prices can be attributed to technological advancements as well as open bidding, said Yeo. "It is important the government does open bidding and tender for projects, so that [prices] can be competitive."
In February, the Malaysian government called for bids for an estimated RM2 billion worth of projects under the LSS3 scheme to increase electricity generation from renewable sources. Yeo was quoted as saying then the competitive bidding process, involving 500mw of electricity, would be opened for six months till August, and that the outcome was expected by year end.
When asked if the LSS3 scheme will translate into cheaper electricity for consumers, Yeo said final electricity prices also depend on factors other than generation cost.
She also said the 500mw solar capacity under LSS3 is only a small fraction of the country's total installed capacity of 24 gigawatts. However, the increased usage of RE will make Malaysia less reliant on fuel prices for electricity generation, she said.
"Malaysia is still taking its baby steps, but now is a good time for us to increase our solar energy use since prices are more competitive than before. Previously, prices were not as competitive and therefore to use solar on a large scale back then would have affected our tariffs.
"As solar is intermittent, how we can use solar during the daytime and gas by night will be under the government's planning. The most important thing for the government now is transparency, as this is what the industry and consumers want," she added.