This article first appeared in The Edge Financial Daily, on September 25, 2019.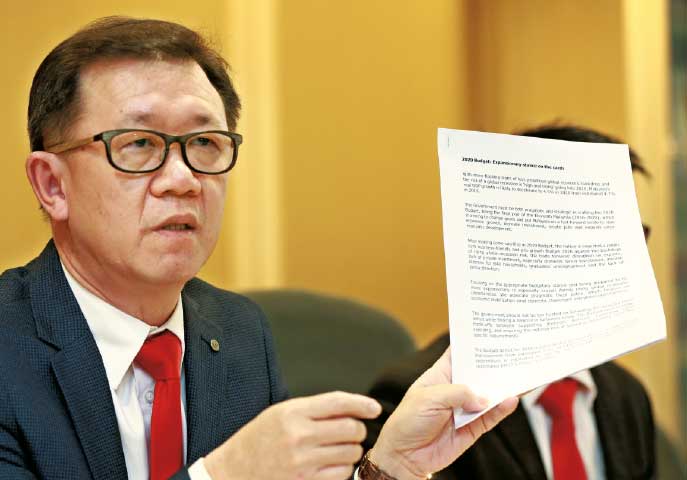 The upcoming budget must manage trade-offs between supporting domestic demand, protecting social spending, and ensuring the optimal mix of spending depending on sector-specific requirements, says Lee. Photo by Sam Fong
KUALA LUMPUR: In view of "high and rising" risks of a global recession as 2020 nears, local think tank Socio-Economic Research Centre (SERC) is calling for a pro-growth Budget 2020 from the government that focuses on high-impact sectors, initiatives and measures that would protect growth-enhancing spending and investments.
SERC executive director Lee Heng Guie noted that Malaysia is already projected to experience a moderation in real gross domestic product (GDP) growth at 4.5%, versus the estimated 4.7% expansion for 2019.
"After making some sacrifice in Budget 2019, the nation is expecting a public and business-friendly as well as pro-growth Budget 2020 against a backdrop of rising global recession risk, trade tensions' disruption on exports, lack of private investments, especially domestic direct investment, income distress for B40 (bottom 40% income) households, graduates' unemployment, and the lack of policy direction.
"We (Malaysia) should not be too obsessed with continuing to reduce the deficit to a desired level, but instead allow some room for an expansionary budget," he told reporters at SERC's third quarterly economy tracker briefing here yesterday.
Lee said: "In terms of [national] debt, we are still below 55% of GDP. Even if the forthcoming budget is somewhat expansionary, there can still be a deficit reduction. [It is just that] it may not be to the targeted 3% [for 2020], but maybe around 3.2% of GDP, a slight improvement from the estimated 3.4% in 2019."
The government is scheduled to table on Oct 11 its Budget 2020, which will be the final budget under the nation's five-year 11th Malaysia Plan that outlines the country's economic growth roadmap between 2016 and 2020.
The upcoming budget must manage trade-offs between supporting domestic demand, protecting social spending, and ensuring the optimal mix of spending depending on sector-specific requirements, said Lee.
This means more should be allocated for development spending that focuses on education, utilities, ports, healthcare, and housing, besides digital infrastructure, tourism, industrial development and small- and medium-sized enterprises (SMEs).
Consider reinvestment allowance extension, a halt to foreign worker levy hikes
With private investment momentum moderating from 12.5% per annum in the 2011 to 2015 period to 5.9% in 2016 to 2018, Lee urged that attention be given to measures that will reinvigorate investment growth. In the first half of 2019 (1H19), private investment growth slowed to 1.2%, compared with 3.4% in 1H18. This should be boosted back to between 3% and 4%, he said.
So SERC proposed, among others, an indefinite extension to the reinvestment allowance from the current qualifying period of 15 years of assessment for selected sectors and a moratorium on hikes in foreign worker levy until 2021 to ease manpower cost. It also calls for higher grants for industrial deepening, research and development, and automation in the face of the Industrial Revolution 4.0.
Such measures to spur private investment are also deemed necessary given that household spending is likely to slow due to cautious discretionary spending, despite the support of a lower interest rate.
SERC is projecting private consumption growth to slow to 6.7% in 2020 from an estimated 7.2% this year, while inflation is expected to climb to 2% in 2020 but remain benign — mainly in anticipation of a weak pick-up in fuel-related items — compared with 0.8% this year.
"Even with the removal of the RON95 price cap, prices are expected to be on the low side, in line with softening global crude oil prices, which are affected by a slowing global economy and intensified trade tensions. That said, volatile crude oil prices remain a wild card," said Lee.
Exports, which have shown uneven growth trends and declined by 0.4% in the first seven months of this year, are estimated to grow by 0.5% to 1% in 2019, and 2% to 3% in 2020.
The central bank, meanwhile, is expected to keep the overnight policy rate at 3%, at least until the first quarter or first half of next year, said Lee, adding the impact of the 25-basis-point cut in May will only be seen in two to three quarters due to the lag effect.
As for the ringgit, SERC is of the view that it will remain volatile and trade between 4.15 and 4.20 to the US dollar when the year ends. At the time of writing, the ringgit was trading at 4.1815 against the greenback.
The think tank also highlighted two policy risk events to watch out for this year, namely whether the FTSE Russell decides to exclude Malaysian bonds from its World Government Bond Index, and the US Treasury's review of Malaysia's inclusion in its monitoring list of potential currency manipulator.