This article first appeared in The Edge Financial Daily, on March 18, 2019.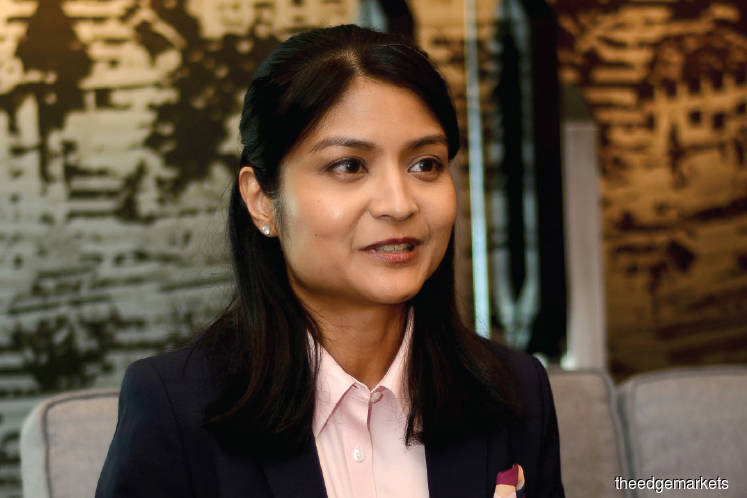 Shafenaz: The key thing in Malaysia right now is to inform policy decisions with some good research. That's the gap we intend to fill. Photo by Shafiq Suhaimi
KUALA LUMPUR: Emphasis should be placed on producing more local research for the aged care community in Malaysia to help the country formulate better healthcare policies for its growing, ageing population, said independent research institute RTI International.
Malaysia is expected to become an ageing nation in just a few decades. Research has predicted that by 2020, those aged 65 and above will represent 7% of the population, and by 2045, Malaysia will become an aged nation — when 14% of its population are aged 65 and above.
Shafenaz Farouk, the managing director of RTI International's Malaysian associate RTI International Malaysia, said the firm hopes to make ground in this space by helping inform better policy decisions.
The Malaysian associate focuses on two areas: healthcare and innovation. Besides aged care, its healthcare division looks at the pharmaceutical sector and enhances the overall healthcare system in the country from financing to treating non-communicable diseases.
"Aged care is a big thing in Malaysia. We look at areas such as how to develop an integrated care model, how to implement mobile health. The key thing in Malaysia right now is to inform policy decisions with some good research. That's the gap we intend to fill," she told The Edge Financial Daily when met recently.
Shafenaz acknowledged that the Private Aged Healthcare Facilities and Services Act 2018, which was passed by Parliament last year, is an important step forward in this area. "That's really important. The next step is to look at the standardisation of processes. We also need to have an integrated policy."
Early last month, Putrajaya said it would look into designing a new blueprint for elderly care, and was conducting an in-depth study on policies to provide long-term and comprehensive protection to senior citizens. This will include enhancing the National Policy and Action Plan for Older Persons.
Deputy Prime Minister Datuk Seri Dr Wan Azizah Wan Ismail, who is also the Women, Family and Community Development Minister, revealed this when she was asked to comment on cases of elderly abuse and a university study claiming that 5% of rural and 10% of urban elders were abused.
On whether Malaysia should be enhancing technological solutions for the healthcare sector, Shafenaz said this will depend on the strength of its current policies. "The focus should be on research first and having an integrated policy framework. Without this, implementation of technology may become an issue," she said.
On a global scale, RTI International has had a long-standing presence in advising healthcare solutions internationally.
"The largest project we have in the healthcare space is the worldwide coordinating centre programme to eliminate neglected tropical diseases (NTDs). What we do is to coordinate activities across 20 countries simultaneously, set up monitoring systems where we identify areas where NTDs are still an endemic, to create supply chains and work with ministries of health to be able to deliver medication and measure outcomes associated with that. This is an ongoing project we have been involved in since 2007," RTI International president and chief executive officer, Dr Wayne Holden, shared.
For its financial year 2018, the American-based company recorded a revenue of US$957 million (RM3.91 billion), supported by 3,830 projects and 1,226 clients worldwide.
Aside from working on developing aged care policy, RTI International Malaysia is also concerned with improving the primary healthcare sector in Malaysia, said Shafenaz.
"There are a lot of people who are underserved, particularly in rural areas. So what they need is proper education on getting screened, for example. Also, some people may have sicknesses but they may not be able to get to a hospital easily. So in those cases, community intervention is important," she said.
She said one area that the health ministry is working on that the firm would like to get involved in is using data to determine which segments of population are high risk, and proactively going to these areas or targeted groups to conduct primary care intervention.
"In Malaysia, we also hear a lot about government clinics being congested. So when we have these kinds of issues, operational efficiency becomes important. We are also trying to work on how we move from being doctor-centric to looking at family health teams and using technology to facilitate that."
Family health teams are defined as primary healthcare organisations that include a team of family physicians, nurse practitioners, registered nurses, social workers, dietitians, and other professionals who work together to provide primary healthcare for their community.
"The key is to move away from being reactive and work towards a more preventive system," said Shafenaz.