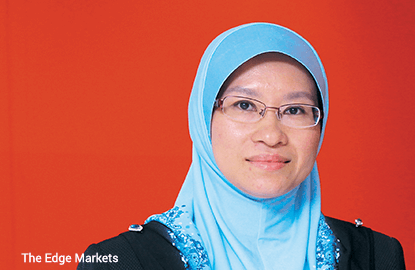 This article first appeared in The Edge Financial Daily, on April 18, 2016.
KUALA LUMPUR: With the Asean Economic Community (AEC) coming online this year, Malaysia needs to have a stronger political will to move the workforce up the value chain by attracting more quality investments, given that any of this region's countries can be a home base to produce goods and services for 600 million consumers in Asean.
A continuous economic expansion has lent force to the country as it pounds on the glass ceiling in attempt to break into the pantheons of developed economies. With cost of doing business here already higher than many other developing markets, economists say that Malaysia has to invest in its workforce's betterment, when indicators show that its skills still leave a lot to be desired for.
"The fact that Malaysia has higher inflation relative to the Philippines, Thailand, Vietnam or Singapore, if this persists, is going to be bad. It's making the country less competitive over time," said Mauro F Guillén, the Zandman Professor of International Management at the Wharton School of the University of Pennsylvania and director of the Joseph H Lauder Institute. "What Malaysia needs to do is to attract higher value-added investments. How do you do that? You have to invest in infrastructure and education. [If I were Malaysia's policymaker], I wouldn't compete with Vietnam necessarily."
The 10-member-country AEC has the intention of creating a single market for Asean, where movements of goods, services and high-skilled labours will be liberalised within this region. Since it was mooted in 2003, many member countries have shown concerns that the trade pact will be a zero-sum game for certain countries, instead of enjoying a collective growth.
Why Guillén singled out Vietnam was because the country is often called a rising star in the Asean region. Although its gross domestic product per capita of US$2,052.30 in 2014 was less than one-fifth of Malaysia's, he said that this country should not rest on its laurels or risk playing catch-up with Vietnam — rather than the current developed economies — later on.
Foreign direct investment (FDI) in Malaysia often edged its Asean member countries, sans Singapore and Indonesia, where World Bank data showed Malaysia was the recipient of an average inflow of US$11.48 billion between 2011 and 2014. The non-Singapore Asean countries, on the other hand, averaged in the range of US$289.12 million and US$22.85 billion.
(Singapore's FDI averaged at US$59.24 billion in the same period.)
But Malaysia's labour market, which the government even admitted, was still disappointing. First of all, the percentage of high-skilled workers making up the country's workforce, at 25.2% in 2014, was far lower than the top 10 countries with the largest shares.
Luxembourg, which ranked number one last year, had 59.6% of its employees categorised as high-skilled, while New Zealand, which sat at number 10, had 47.4%. Neighbour Singapore had the second biggest percentage of high-skilled workers relative to its workforce, at 54.7%, based on the World Economic Forum's Human Capital Report 2015.
Malaysia expects high-skilled vocations to jump by nearly 10 percentage points to meet employers' needs in 2020. But according to the Economic Report 2015/16, the main reason for the low share of highly skilled workers was the scarcity of workers equipped with technical and soft skills, such as communication and English fluency.
Besides, the report stated that even employers did not create enough quality jobs: More than half a million of people doing semi-skilled jobs attended tertiary education. And employers also often resort to cheap migrant workers to fill vacancies.
And if education is the root of all success, then Malaysia needs a lot of cultivating to do, judging by the last edition of the triennial Programme for International Student Assessment survey, where students of the country were ranked 52nd out of 65 countries in 2012.
They underperformed on various levels: Average scores were below the Organisation for Economic Co-operation and Development's member countries in all categories — mathematics, reading and science. The share of top scorers in maths was in single digit only, and there were drops in average scores for reading and science from the previous edition.
For now, though, PricewaterhouseCoopers Advisory Services Malaysia senior executive director Kartina Abdul Latif says Malaysia is the second most attractive country for talent in the AEC, on the heels of Singapore, according to the 2016 Global Talent Competitiveness Index.
And compared with many of its Asean cohorts, she said Malaysia's workers are well sought after in the region for their English proficiency.
"To move up the value chain, they will need to improve [on] their critical thinking skills, develop a mindset that is open to innovation and change, and be willing to go the extra mile in their jobs to deliver value to their stakeholders and customers.
"This largely relates to the need to improve our capabilities in innovating and creating more relevant products and user experiences for customers. For instance, more emphasis needs to be placed on commercialising our research and development (R&D) capabilities to meet the needs of the marketplace," said Kartina.
Employers in Malaysia, too, will benefit from the AEC as the country is faced with  a limited pool of skilled workers over the medium term arising from the growing skill gap, she added.
Kartina said Malaysia should harness the opportunities arising from Asean integration to attain high-income status, as the agreement encourages more broad-based, inclusive growth and also utilises the economic competitiveness of the region.
"However, with increasing demand for specialised skills, this may create an uneven playing field for businesses, which may not be ready to move up the value chain, such as manufacturing businesses, which may not have the technical readiness to invest in R&D efforts."
In theory, the AEC will benefit Malaysia and the region — if the countries' policymakers have the will to execute it as promised, Guillén said. "With more than 600 million people here, and a lot of people are becoming [the] middle class, they see their purchasing power increase.
"If you remove barriers, you have two advantages. One, you may see companies that are going to [be] set up in this market will see a large market as opposed to a few small individual markets. Then they will have [the] incentive to invest here. That will essentially create competition, which will be good for consumers," Guillén said.
"But it's still too early to see [the] AEC's benefits. Politicians like signing things. But ultimately, you have to deliver on those promises," he added.