This article first appeared in The Edge Financial Daily, on April 5, 2019.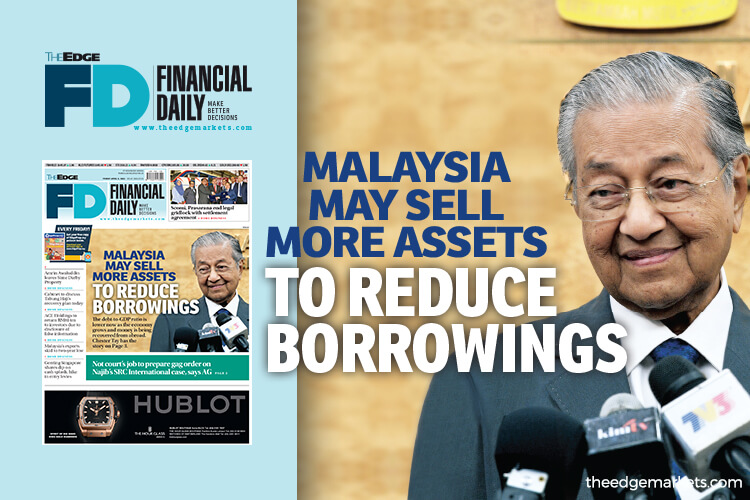 KUALA LUMPUR: While the country's national debts are at a more manageable level currently after the government has recovered some money from abroad, still Prime Minister Tun Dr Mahathir Mohamad points out that the government needs to sell more assets to reduce borrowings.
Dr Mahathir said the government may consider selling the government's land to Malaysians to raise money to pare down national debts.
"We still have some assets, in fact, if necessary, we may sell even land belonging to the government, but of course we will sell the land to Malaysians, not foreigners. I think that will help reduce the borrowings," he told the media at the parliament lobby yesterday.
Dr Mahathir explained that the debt-to-gross domestic product (GDP) ratio has come down simply because the country's GDP expanded last year.
"Secondly, we have recovered a lot of money that was lost, also those kept by Singapore and all that, so that money helps reduce the debts. We are also working hard on trying to reduce the contract value of ECRL (East Coast Rail Link), because if we don't continue with the project, we will have to pay very huge compensation, so that is being managed.
"But we see possibility of reducing more debts through identifying government assets which we can sell. At the moment the process is going on; it is not static; it is being worked on all the time. I can't give you the exact figure, but I believe it has been reduced quite considerably," he added.
When asked, Dr Mahathir was not able to confirm whether the money recovered from Singapore is related to the 1Malaysia Development Bhd scandal or not.
"I will have to ask the minister of finance, he knows the figures better than me. We have recovered money, but I have to ask the minister of finance, I don't carry the whole cabinet in my head," he quipped.
Moody's senior analyst for sovereign risk group, Anushka Shah, commented that Malaysia is not exposed to any default risks, although the debt affordability metrics, which is the ratio of interest payments to revenue, indicates that Malaysia is weaker than its peers at the same rating level.
"On this metrics, Malaysia is weaker than certain other A-rated peers, but that does not mean that it doesn't have the capacity to service its debts," she told a media briefing on Wednesday.
"When we compare Malaysia's debt ratio to those of other A-rated sovereigns, it is significantly higher. Given that deficit levels are not going to narrow substantially over the next few years, particularly in a weaker global environment, it is likely that the debt burden will remain elevated," Anushka said, noting the high debt burden has been a long-standing structural issue for Malaysia.
That said, she noted Malaysia is not exposed to risks of tighter funding conditions given its favourable debt structure, whereby 98% of the government's debt burden is funded in local currency. As such, Malaysia is also protected, to a certain extent, from risks arising from currency fluctuations to its debt position.