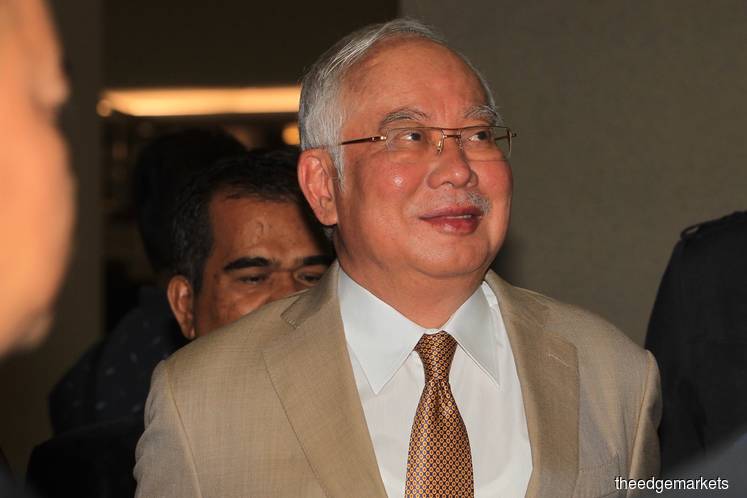 KUALA LUMPUR (Dec 2): For the first time in Malaysian history, a former prime minister may take the stand tomorrow to defend himself and prove his innocence in a court of law.
Former prime minister Datuk Seri Najib Razak will have the opportunity to tell his side of the story as he has been asked to enter his defence after the Kuala Lumpur High Court found that the prosecution had made a prima facie case against him in all the seven criminal charges involving RM42 million of SRC International Sdn Bhd funds.
In his judgement on Nov 11, Justice Mohd Nazlan Mohd Ghazali moved that the prosecution has successfully established a prima facie case against Najib. In the deliberation of his judgement that took about an hour, Nazlan notably devoted half an hour to just one charge — abuse of power.
Najib also faces three criminal breach of trust charges and three money-laundering charges in relation to the alleged embezzlement of RM42 million from SRC in 2014 and 2015.
Besides acting as the prime minister, Najib also served as the finance minister and adviser emeritus in SRC when the RM42 million landed in his personal bank accounts.
The Pekan MP was given three choices to enter his defence. He may choose to exercise his right to remain silent, make an unsworn statement from the dock (in which case he cannot be cross-examined by the prosecution) or testify as a sworn witness (in which case the prosecution can cross-examine him).
His lead counsel, Tan Sri Muhammad Shafee Abdullah, had indicated earlier that his client has opted to give a sworn testimony.
This means that while Najib will be given the opportunity to present his side of the story, he will also be subjected to cross-examination by the prosecution.
This decision, however, may still be changed before the trial resumes tomorrow.
In any event, tomorrow will be significant in that for the first time in the trial, Najib will address the court himself and the allegations against him.
The highest-ranked politician in the country to face criminal charges, Najib was charged on July 4 last year, and the trial began on April 3.
The trial, which has run for 58 days, saw 57 prosecution witnesses testifying against Najib.
The Edge is reporting the proceedings of the SRC trial live.
Users of The Edge Markets app may tap here to access the live report.