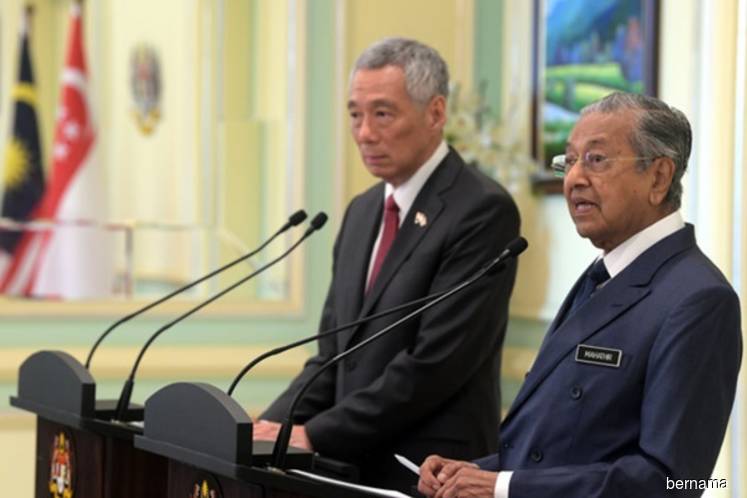 PUTRAJAYA (April 9): Malaysia is not ruling out the possibility of resolving the water price issue with Singapore, under the 1962 Johor River Water Agreement, through arbitration.
Prime Minister Tun Dr Mahathir told this to reporters at a joint press conference with Singapore Prime Minister Lee Hsien Loong after their 9th Malaysia-Singapore Leaders' Retreat here today.
"For Malaysia, resolving the longstanding issue of water price review is a priority. We were engaged in active negotiations on the review in the late 1990s and early 2000s.
"Prime Minister Lee and I have agreed to find amicable solutions on this issue, including the possibility of dispute resolution through arbitration on a mutually agreed basis," Dr Mahathir said.
However, Lee, in his remarks, reiterated Singapore's position that Malaysia has lost its right to review the water price but have agreed that the Attorney Generals of both countries would meet to understand each other's legal positions.
The meeting was noted to have been held, and will continue to be held, until a resolution is achieved.
Lee pointed out that there are two concerns that Singapore has regarding the water supplied from Johor, which are pollution and the sustainability of the water supply.
"Just last week, the PUB (Public Utilities Board, Singapore's national water agency) waterworks at Kota Tinggi had to shut down because of high ammonia levels, and the source was traced to a palm oil mill in Sedenak in the catchment area. And if Johor River suffers an incident like that which happened in Sungai Kim Kim recently, I think it will be disastrous for both countries," Lee explained.
"The other concern is the long-term sustainable yield of the Johor River. Johor has built water plants on the river, upstream of PUB's water works at Kota Tinggi. And these plants, combined with the Kota Tinggi waterworks belonging to PUB, draw from the Johor River quite possibly more water than the river can sustain," he added.
Hence, Lee highlighted the need to study how to meet both Johor's and Singapore's water requirements for the remainder of the water agreement.
"It is in both countries' interest to work together to ensure sustainable water supply for both sides because this will reduce potential for conflict between the two countries," he said.
In his remarks, Lee acknowledged Dr Mahathir's political necessity to press hard for water price revision, but asserted the legal precondition to follow the initial agreement.
"It's a fundamental founding document for us and we have to go according to this document. It's a basic term on which the two countries decided to manage our relationships.
"So now I can understand Dr Mahathir's perspective but I also hope he will be able to see Singapore's perspective why this is such a sacrosanct item and therefore let us try to find a way forward which enables us to talk constructively about this issue and hopefully be able to make some progress," he added.