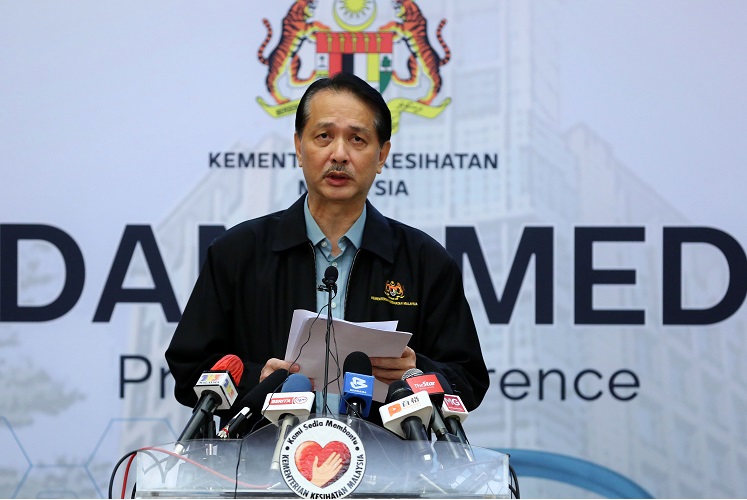 KUALA LUMPUR (May 2): Malaysia may be the next location in testing the Covid-19 vaccine for the third phase, said health director-general (DG) Datuk Dr Noor Hisham Abdullah.
The vaccine that is produced in China, has not been completed yet and is now in its second phase, he revealed.
"We have discussed with China regarding this vaccine and now the research for the vaccine is in the second phase.
"The second phase of the research will be completed around November-December," said Noor Hisham in the daily Covid-19 media briefing today.
Before proceeding to the third phase of the vaccine, it will be tested on human bodies first, according to him.
The DG said the matter has been discussed with China through two conference videos as they agreed that Malaysia will be the next location for the third phase of vaccine research.
"So we will wait for the second phase of the vaccine test, before we proceed to the third phase," said Noor Hisham.
There are currently no approved vaccines or medication for Covid-19, which has killed more than 239,000 people worldwide so far.
China's state news agency Xinhua said the country has been reported to have approved early-stage human tests for two experimental coronavirus vaccines as it battles to contain imported cases and prevent a second wave of Covid-19. 
The experimental vaccines were said to be developed by a Beijing-based unit of Sinovac Biotech and by the Wuhan Institute of Biological Products, an affiliate of state-owned China National Pharmaceutical Group.
It was also reported that last month, Beijing gave the green light to another clinical trial for a coronavirus vaccine candidate developed by the military-backed Academy of Military Medical Sciences and biotech firm CanSino Bio. 
Read also: 
Covid-19: 66 positive cases detected among SARI and ILI patients
Covid-19: MoH detects new cluster with six infections in Temerloh
Covid-19: Malaysia's new daily cases rise above 100 again, at 105 vs 116 recoveries
#dudukrumahdiamdiam and get the news at theedgemarkets.com.