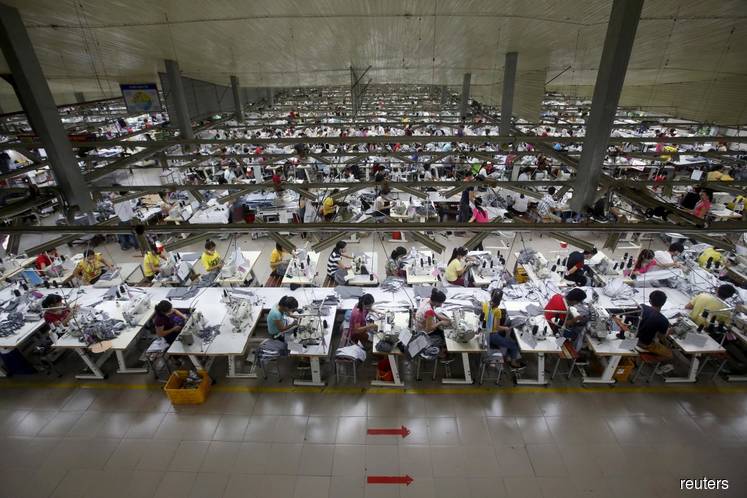 KUALA LUMPUR (June 4): Operating conditions across Malaysia's manufacturing sector deteriorated in May, thereby stretching the current period of decline to four months.
Released this morning, the headline purchasing managers' index (PMI) fell to 47.6 in May from 48.6 in April.
"This was predominantly driven by the sharpest fall in new business since December 2016," the statement by IHS Markit read.
On the price front, input cost and output charge inflation eased to the slowest since October 2016 and February respectively.
At the same time, business sentiment remained above the historical average.
IHS Markit said a fall in new orders was a key factor contributing to the downward movement in the headline index.
Moreover, it said the rate of contraction was the strongest in nearly one-and-a-half years.
"Lacklustre demand was cited by panellists as the main reason behind lower new business. Meanwhile, new export orders fell for the fourth successive month in May.
"That said, the rate of decline moderated to the weakest
in three months," it said.
Output across Malaysia's manufacturing sector declined in May.
Moreover, the decline was the fastest in the current three-month sequence of contraction.
IHS Markit said panellists commented on weak underlying demand conditions.
Commenting on the Malaysian Manufacturing PMI survey data, Aashna Dodhia, Economist at IHS Markit, which compiles the survey, said: "Latest survey data highlighted that Malaysian manufacturing conditions deteriorated at the fastest pace since June 2017, primarily driven by the sharpest fall in new business since December 2016.
"PMI data suggested that weak demand emanated from both the domestic and foreign markets.
"In response to lower output requirements, firms were discouraged from engaging in input buying and job recruitment. However, on the price front, manufacturers felt some respite around inflationary pressures with input cost inflation easing to the weakest since October 2016."
"A key PMI finding was that the manufacturers retained strong projections for output in the next 12 months, rooted in hopes that the new government will spur business activity in the year head."