This article first appeared in The Edge Financial Daily, on January 29, 2019.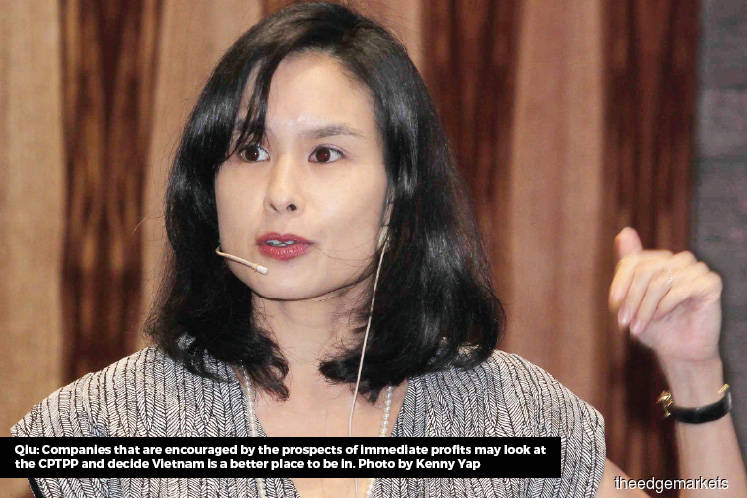 KUALA LUMPUR: Malaysia stands to lose foreign business activities to Vietnam if it does not ratify the Comprehensive and Progressive Agreement for Trans-Pacific Partnership (CPTPP), says Pamela Qiu, associate director of The Economist Corporate Network.
"Companies that are encouraged by the prospects of immediate profits may look at the CPTPP and decide Vietnam is a better place to be in," Qiu said at the InvestKL's economic outlook conference yesterday.
She said while Malaysia still has the upper hand in terms of skilled labour, Vietnam's edge includes the CPTPP's incentives for firms, especially multinational corporations (MNCs).
The latter also has the advantage of lower labour costs.
This is in light of the shift in operations to Southeast Asia from China that MNCs are considering due to the uncertainty and potential fallout from the US-China trade war.
Datuk Zainal Amanshah, chief executive officer of InvestKL, said Malaysia has a different strategic pivot as it focuses on higher value-added jobs and growing its services sector.
"We're moving up the value chain — when it comes to manufacturing, for example, anything to do with robotics and automation, that's our space. We realise we are no longer competitive in terms of low-cost labour," he told reporters at the conference.
While the Economist Intelligence Unit (EIU), the global research arm of London-based The Economist media group, expects an escalation in the US-China trade war this year, it is of the view that Southeast Asia would remain a bright spot for global growth.
Specifically, Malaysia is expected to be a net winner, particularly in the motor vehicle and information and communications technology sectors, said Qiu.
However, the government must still work on institutional reforms and policy clarity in order to woo more investments, she said.
On the ringgit, the EIU expects as much as a 5% depreciation against the US dollar this year, assuming the US Federal Reserve hikes rates twice this year.