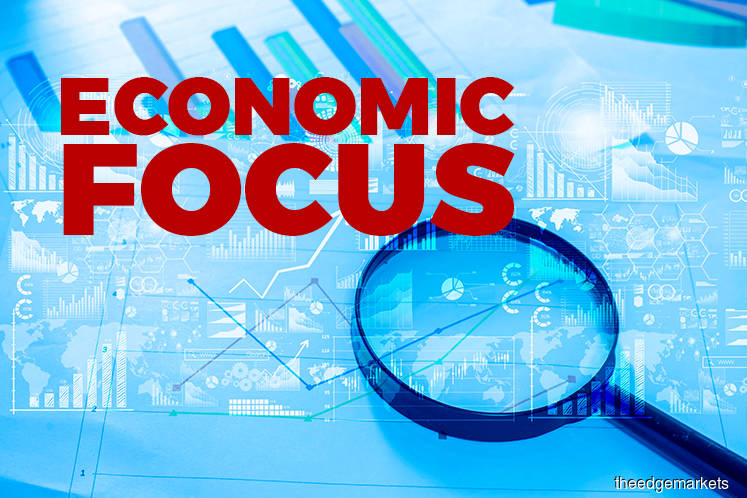 KUALA LUMPUR (March 30): AmBank Group Research expects the Malaysian economy to report "technical" recession — two quarters of negative growth.
In a budget report today, AmBank Group chief economist and head of research Dr Anthony Dass said that after taking into consideration of the "technical" recession, his estimation shows the economy should expand around 0.4% for 2020 although the government projects a flat growth.
Dass, who is also an adjunct professor in economics at the University of New England, Sydney, Australia, said the second stimulus package (SP2) of Covid-19 amounting to RM250 billion (17% of gross domestic product [GDP], with 1.7% of GDP direct fiscal injections) should support growth and provide the much-needed support in areas like liquidity, consumption and employment without putting too much strain on the fiscal deficit.
Dass said that underpinned by the global economic crisis due to Covid-19, Malaysia's national revenue will be impacted.
"The rapid spread of the virus outside China has prompted sharp declines in travel and tourism, and the cancellation of business and leisure events worldwide as 'social distancing' takes hold.
"Containment efforts of this virus outbreak involve quarantine and widespread restrictions on labour mobility and travel, resulted in a sudden economic stop and sharp cutbacks in the overall economic activities," he said.
Dass said adverse consequences of these developments include the direct disruption to global supply chains and shipping as well as exports, weaker final demand for imported goods and services, and the wider regional declines in international tourism and business travel.
"Risk aversion rose in financial markets while commodity prices suffered sharp declines. Business and consumer confidence fell.
"A huge fall in GDP in the coming months can be expected. Thus, our national revenue is expected to drop as we expect lower tax revenue from individuals and corporates," he said.
Dass said in the SP2, the government has lowered the oil price projection to US$35–US$40 per barrel for Brent.
He said this would translate to an oil revenue loss of between RM6.6 billion and RM8.1 billion, explaining that for every US$1 per barrel drop in oil price, oil revenue will fall by RM300 million.
Dass highlighted that with only a direct injection of RM22–25 billion under SP2, this is unlikely to cause much strain on the fiscal deficit.
"Assuming total government revenue rises by RM22 billion, the fiscal deficit should reach RM74 billion or 4.9% of GDP, which is lower than the 6.7% reported in 2009.
"And the fiscal deficit could possibly reach as low as 4% of GDP from offsetting revenue initiatives. With deficit likely to stay below 5%, that should provide some comfort on Malaysia's international ratings where we currently sit in 'Stable' i.e. A3/A-," he said.
At the same time, he said the federal government debt is expected to reach 55% of GDP from 52% previously.
"It is within the 55% statutory threshold. And the good point is that the government has also committed to maintaining fiscal discipline of not borrowing to fund operating expenditure," he said.
Meanwhile, he said the SP2 measures should provide some meaningful positive impact on the economy.
"For instance, the consumer sector is expected to benefit from the latest initiatives under the SP2.
"The measures are expected to put money into the pockets of consumers and this would help sustain their cash flow.
"Besides, it is also expected to improve the cash flow of individuals who are not affected severely by the virus Impact," he said.
Dass said benefits are likely to be seen in areas of business focusing on staple food and basic necessities.
"Besides, small players in the construction sector are expected to benefit from the RM2 billion allocation for small-scale projects such as the upgrading of roads, schools (in Sabah and Sarawak), places of worship, police stations and tourism facilities.
"This will benefit contractors in Classes G1 (project value cap of RM200,000) through G4 (project value cap of RM1 million to RM3 million).
"These RM2 billion worth of new projects are in addition to the RM2 billion of small projects already announced during the first stimulus package," he said.
Dass said the first RM2 billion projects are scheduled to hit the ground running in April 2020, including infrastructure in Felda settlements (RM600 million), the refurbishment of schools in Sabah and Sarawak (RM350 million ) and the refurbishment of housing for the poor (RM150 million).
He said that as a result, these projects will provide lifelines to the sector, as well as generate positive multiplier to the economy through "forward" and "backward" linkages.
#dudukrumahdiamdiam and get the news at theedgemarkets.com.