This article first appeared in The Edge Financial Daily, on February 7, 2020.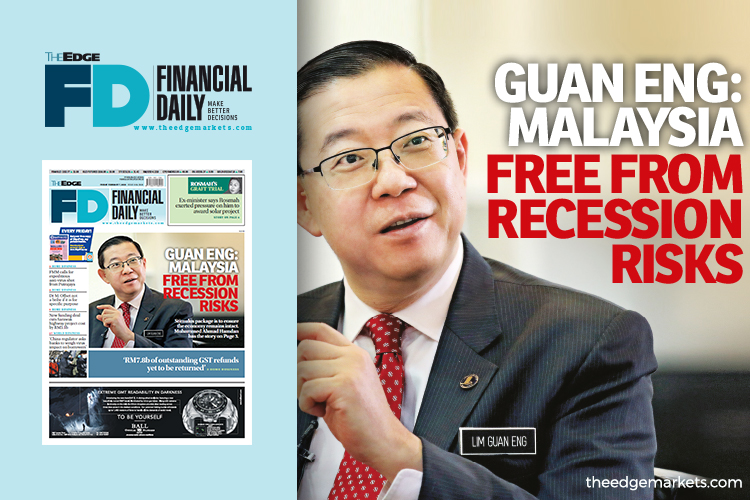 PUTRAJAYA: Malaysia is not heading into a recession despite the government's plan to expedite the implementation of an economic stimulus package, Finance Minister Lim Guan Eng said yesterday.
He said the country is "free" of such risks, and that the soon-to-be unveiled stimulus package is to ensure that the local economy remains intact.
"There's no risk of recession in Malaysia. I think what we want is to ensure sustainable economic growth," he told reporters after witnessing the signing of a new project funding agreement between the federal and Sarawak governments for the Sarawak portion of the Pan-Borneo Expressway.
Guan Eng, however, remained tight-lipped on what the package would entail, saying that an official announcement on the matter will be made soon. On whether the ministry will revise downward its crude oil price forecast of US$62 (RM255.44) per barrel as made in the Budget 2020 — given the commodity's declining trend — Guan Eng said such changes will be announced together with the stimulus package.
The ministry's economic stimulus package was initially planned to prepare for the uncertainty for the ongoing US-China trade war, with a later implementation date.
However, the plan to hasten the package implementation comes amid rising concerns over the Wuhan virus outbreak, which has killed more than 560 people and infected over 28,000, including 14 in Malaysia, since it first came to light last December.
Guan Eng had earlier said that the move was in anticipation that the tourism industry will be severely affected by the virus crisis — which originated in Wuhan, China — given the declining number of Chinese tourists to Malaysia.
It was reported that the support can be in terms of technical assistance, analysis, sharing experience of similar pandemics and how they have been controlled, such as the severe acute respiratory syndrome and Ebola.