This article first appeared in The Edge Financial Daily, on May 27, 2019.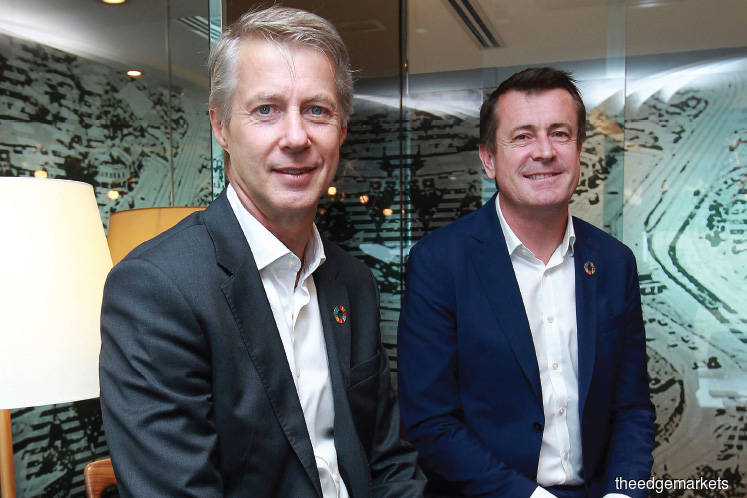 Granryd (left) and GSMA head of Asia-Pacific Julian Gorman in an interview on 5G's impact on AsiaPacific and Malaysia at Le Meridien. Photo by Shahrin Yahya
KUALA LUMPUR: GSMA, the association representing the interests of mobile operators around the world, has lauded Malaysia's push towards deploying fifth generation (5G) technology and pointed out that the country is at the forefront of development in Southeast Asia.
GSMA director-general Mats Granryd told The Edge Financial Daily that the association is positive about Malaysia's plans for 5G, especially after meeting with some of the government agencies, including the Malaysian Communications and Multimedia Commission (MCMC) and businesses here.
"We are much more positive now after we met some of the agencies. We met with MCMC and they were quite clear on the release of the 700MHz band which is critical and they understand that operators need to make money in order for it to be sustainable in the long run," he said.
MCMC had previously indicated its target to implement 5G in Malaysia by 2021 or 2022, which Granryd thought was a "reasonable" timeline.
While other countries in the Southeast Asian region have announced their respective plans for 5G development, he said Malaysia had made the right move in introducing the 5G Task Force in December last year to bring together different stakeholders involved.
Currently, Singapore is leading the way in terms of preparations for 5G as it aims to roll-out networks by next year, while Indonesia had last month announced its very own 5G Task Force following the recent conclusion of its general election.
"Operators in the Philippines and Cambodia are also making announcements on 5G. The big difference in Malaysia is the setting up of the task force, which brings together different industries and stakeholders.
"When we talk about 5G, there is emphasis on intelligent connectivity which requires the convergence of connectivity, artificial intelligence, big data and so on. In that sense, Malaysia is better positioned to move forward. Bringing in industries together is a lot more challenging in some of the other markets that we talked about," Granryd said.
He added that the GSMA's decision to hold a Mobile 360 (M360) conference in Kuala Lumpur in September this year — the first M360 conference to be held in Malaysia — is a testimony to the country being on the right track in 5G development.
The push towards 5G has also been driving consolidation among telecommunication companies (telcos) around the world, noted Granryd, as the margins of players continue to be pressured.
He pointed to the merger of Sprint and T-Mobile in the US as an example, highlighting that the two parties' decision to join forces was made around the need for 5G investments.
Similarly, the Chinese government is exploring the merger of two of its top wireless carriers — China Unicorn and China Telecom — to accelerate the development of 5G mobile services.
Closer to home, Axiata Group Bhd and Telenor Group had announced their talks for a merger of their operations in Asia, noting that one of the main reasons they are joining forces is the rising capital expenditure for new technologies, including 5G services.
"The business is tough. Data consumption is going up and consumers are paying less. The demand is growing and companies need to continuously build their network, yet telcos are being paid less and less.
"This is something of a concern as investments for 5G will be heavy," Granryd said.
Looking ahead, the association expects 25% of connections in Malaysia to be on 5G by 2025, while the rest will be on 4G.
For the Asia-Pacific, 5G is expected to account for 15% of the technology mix by 2025, while 4G will account for 67% of network connections, rising from 43% in 2018. Meanwhile, 3G networks is expected to see a drop to 13% of connections, compared with 21% in 2018.