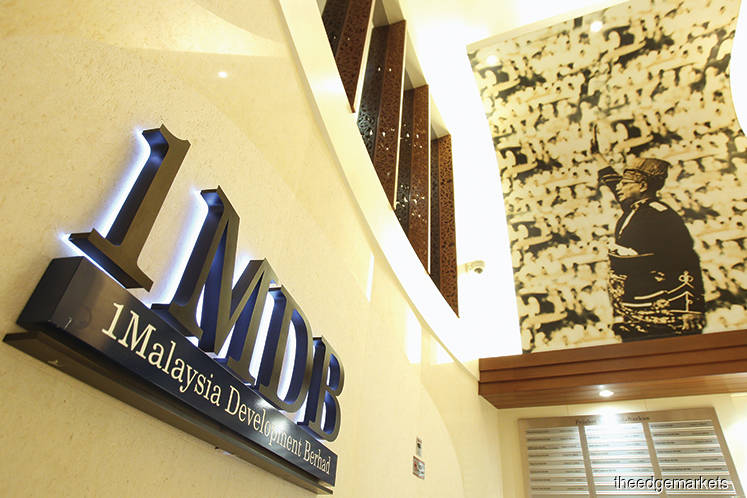 KUALA LUMPUR (Dec 17): Malaysia on Monday filed criminal charges against three subsidiaries of Goldman Sachs Inc over their handling of bonds totalling US$6.5 billion issued by 1Malaysia Development Bhd (1MDB).
While it has in the past paid hefty fines in several countries over wrongdoings and employees have been charged criminally, this is possibly the first time that any country has filed criminal charges against the US investment banking giant itself.
According to the charge sheets filed in a Kuala Lumpur court obtained by theedgemarkets.com, the primary target is Goldman Sachs International (UK) which had arranged the sale of three bonds — two in 2012 and one in 2013.
Two other Goldman units — Goldman Sachs (Singapore) Pte and Goldman Sachs (Asia) LLC — were charged with abetting Goldman Sachs International in the omission of material information and the publishing of untrue statement in the offering circulars for the bonds.
Goldman Sachs International earned around US$600 million in fees from 1MDB for arranging the sale of the bonds, a sum that many in investment banking circles say was excessive.
Malaysian prosecutors today also filed charges against fugitive Malaysian businessman Low Taek Jho, also known as Jho Low, and ex-1MDB general counsel Jasmine Loo Ai Swan as well as former Goldman executive Timothy Leissner for abetting Goldman Sachs International.
The three bonds were: 1) a 10-year US$1.75 billion issued by 1MDB Energy Ltd, 2) a 10-year US$1.75 billion issued by 1MDB Energy (Langat) Ltd and 3) a 10-year US$3.0 billion issued by 1MDB Global Investments Ltd.
The central charges were similar for the first two bonds and they were that Goldman Sachs International as the arranger had omitted to state the following facts:
That Jho Low was the operator and key intermediary for 1MDB;
That 1MDB Energy and 1MDB Energy (Langat) had entered into collaboration agreements on May 12, 2012 and Oct 19, 2012 respectively for credit enhancement wherein the two companies agreed to pay Aabar Ltd a credit enhancement and underwriting contribution in cash in consideration of Aabar procuring a guarantee from International Petroleum Investment Company (IPIC) for the two bonds, and that the payment was to be made using the proceeds of the two bonds;
That 1MDB  Energy and 1MDB Energy (Langat) had entered into option agreements on May 18, 2012 and Oct 17, 2012 respectively whereby they granted to Aabar the option to purchase 49% of the shares owned by them in consideration of Aabar procuring IPIC as a guarantor for the bonds.
For the first bond issued by 1MDB Energy, Goldman Sachs International was additionally accused of omitting to reveal that 1MDB and IPIC had entered into InterGuarantor Agreements wherein 1MDB has fully underwritten all amounts falling due and payable under the bonds, including all expenses, damages, liabilities incurred or suffered by IPIC, and in the event 1MDB is unable to meet such underwriting obligations, it will procure the Ministry of Finance Inc to provide the necessary funding and support to repay IPIC in full.
In the case of the bonds issued by 1MDB Global Investment, Goldman Sachs International was charged with failing to disclose in the offering circular that Jho Low was the operator and key intermediary for 1MDB.
The US investment bank is also charged with publishing an untrue statement in the circular that "the issuer will either on-lend all of the net proceeds of the offering to ADMIC or use the net proceeds of the offering to fund its investment in ADMIC, which will be the 50-50 joint venture between the issuer and Aabar".
ADMIC stands for Abu Dhabi Malaysia Investment Company which was supposed to develop the Tun Razak Exchange, a project which has since been fully undertaken by Malaysia.
According to the charge sheets, the penalty for each of the offence is imprisonment of not more than 10 years and a fine of not less than RM1 million.
Malaysia prosecutors have filed other 1MDB charges in absentia against Jho Low and Loo.
Leissner last month pleaded guilty in the US  to charges of misappropriating 1MDB money and bribing officials in Malaysia and Abu Dhabi and is awaiting sentencing.  He also forfeited US$43.7 million to US authorities.
Another Goldman Sachs executive Roger Ng Chong Hwa, who is Malaysian, is under police remand in Kuala Lumpur and is fighting extradition to the US to face the same charges as Leissner.  He is expected to be charged for abetting Goldman Sachs International later this week.
Jho Low was also indicted by the US Department of Justice (DOJ) which said that he, Leissner and Ng, together with others, misappropriated US$2.7 billion from the US$6.5 billion bond issues. Part of the money was used to bribe top officials in Malaysia and Abu Dhabi.
The 1MDB scandal was a key reason why the Barisan Nasional coalition which ruled Malaysia for 61 years was ousted in May's general election.
Former Prime Minister Datuk Seri Najib Razak, whom Jho Low is close to, had since 2015 repeatedly denied any wrongdoings at the state-owned company he started, despite numerous media exposures as well as action taken by authorities in the US, Singapore and Switzerland against banks and bankers.
He had also insisted that the US$680 million that was banked into his account in 2013 was a donation from the late King Abdullah of Saudi Arabia. The US DOJ says money flows showed the cash originated from 1MDB.
Najib has been slapped with numerous charges related to 1MDB since he lost power.