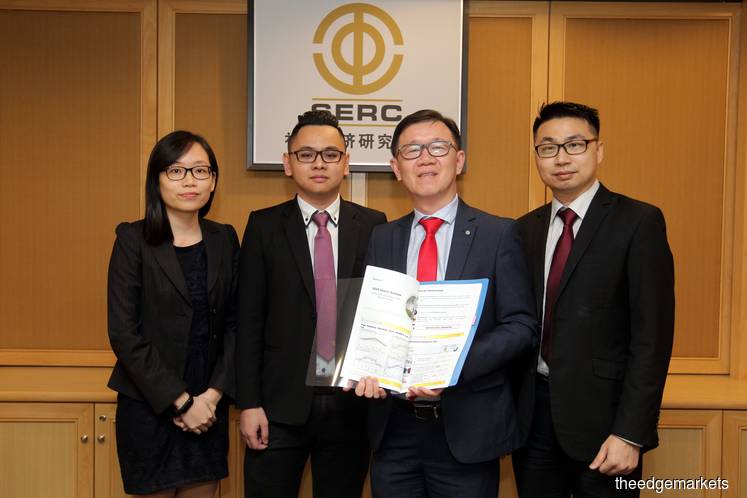 From left: SERC researcher Look Yuen Kei, SERC researcher Goh Kong Jun, SERC executive director Lee Heng Guie and SERC researcher Lee Soon Thye at SERC's fourth quarterly economy tracker and 2020 outlook press conference here today. (Photo by Mohd Suhaimi Mohamed Yusuf/The Edge)
KUALA LUMPUR (Jan 14): The Socio-Economic Research Centre (SERC) is expecting Malaysia's exports to recover gradually in 2020 with an estimated 2% growth, against a decline of 1.5% to 2% in 2019.
The improvement in exports will be underpinned by easing trade tensions, which will help to stabilise global trade; the deployment of 5G, which will be the factor propelling a moderate recovery in the semiconductor industry; and higher commodity prices like crude oil and palm oil prices.
At SERC's fourth quarterly economy tracker and 2020 outlook press conference here today, its executive director Lee Heng Guie elaborated that should the US and China to sign a phase 2 trade deal, it will further uplift the positive sentiment, which, in turn, will also serve as a positive catalyst to reassess SERC's gross domestic product (GDP) forecasts for the country.
He added that the wild card to be watched is the US Presidential elections this year, which will impact the progress of the US-China trade talks.
It was reported that the signing of the phase 1 trade deal between the US and China is expected to conclude on Wednesday (Jan 15), ending the 18-month war of tit-for-tat tariffs that have roiled financial markets and dragged down global growth.
Given the easing trade tensions and low interest rate environment globally, Lee said this has set the scene for stable global growth in early 2020, adding that the signing of the phase one interim trade deal is viewed as a positive step to lay the foundations for future negotiations.
Meanwhile, SERC has come out with the upside, base-case and downside scenarios for global growth this year.
The base-case scenario for the global economy is a trade war retreat or a material de-escalation of the trade tension, and this will help to reduce uncertainty and spur global growth and market sentiment. SERC assumes there is a 50% chance the base-case scenario will happen, and global growth is projected at a range of 3.2% to 3.4%.
Meanwhile, SERC sees a 20% chance the upside scenario will happen. This means policy stimulus is working and trade negotiation is going smoothly, and will further accelerate global growth to 3.5%.
SERC sees a 30% chance that the downside scenario, which indicates that global growth is projected to slow down between 2.8% and 3%, will happen.
Lee said Malaysia's GDP is projected to grow at a slightly slower rate of 4.5% this year, compared to 4.6% last year, on cautious global growth estimates of 3.2% to 3.4% and uncertainty of private investments.