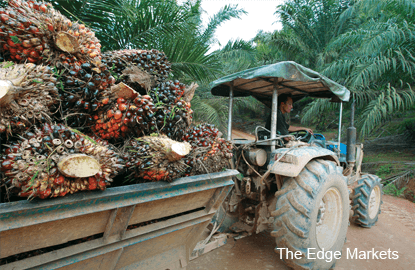 KUALA LUMPUR (Aug 5): Malaysia's exports in June 2015 grew 5% to RM64.26 billion from the year-ago period, exceeding market consensus of a 2.2% contraction.
In a statement today, the Ministry of International Trade and Industry (MITI) said the improved performance was supported by higher exports of main products including electrical and electronics (E&E), palm oil, timber and timber-based products and natural rubber.
The recovery of export to main destinations also contributed to the better export performance in June. During the month, higher exports were recorded with China (+RM1.6 billion), Taiwan (+RM435.1 million), US (+RM393.6 million), Hong Kong (+RM288.2 million) and Indonesia (+RM219.4 million).
On a month-on-month basis, exports managed to expand by 6.3%.
Imports in June 2015, meanwhile, declined by 1.5% year-on-year to RM56.28 billion, but coming in above market consensus of a 4.5% contraction. 
The negative growth was attributed to a decline in capital goods and intermediate goods. Compared with May 2015, imports recorded a positive growth of 2.4% due to the rise in imports from main destinations.
The reading of export and import translated into a trade surplus of RM7.98 billion, rising on yearly and monthly basis of 94.4% and 44.7% respectively.
The country's total trade grew by 1.9% to RM120.54 billion in June 2015 compared with RM118.35 billion a year ago, said MITI.
Trade in June 2015 was 4.5% higher from RM115.4 billion in May.
For the six months period, total trade however fell 2.9% to RM694.98 billion, of which exports were down 3.1% to RM368.33 billion while imports declined 2.6% to RM326.64 billion.
MITI said Malaysia's export performance contracted in the first half of 2015, in line with the weak global demand and subdued commodity prices. 
"This trend was in line with the trade performance of regional economies," it said.
MITI said trade with the free trade agreement partner countries expanded 63% to RM437.56 billion, with exports valued at RM232.1 billion while imports were worth RM205.46 billion.
"Trade with Asean fell 2.3% to RM189.48 billion with exports and imports valued at RM103.84 billion and RM85.64, respectively, accounting for a 27.3% share of total trade," it said.
MITI said the higher exports to Asean were contributed by electrical and electronic products, crude petroleum, chemicals and chemicals products, as well as machinery, appliances and parts.
In a note today, JF Apex Securities said for July 2015, it foresees that exports and imports will continue to post positive growth of 4.2% and 1% respectively following impressive performance recorded in June 2015, coupled with positive growth of export and import products to our main trading partners.
"Trade performance will continue to be supported by higher demand of E&E products coupled with strong outlook of semiconductor industry," it added.