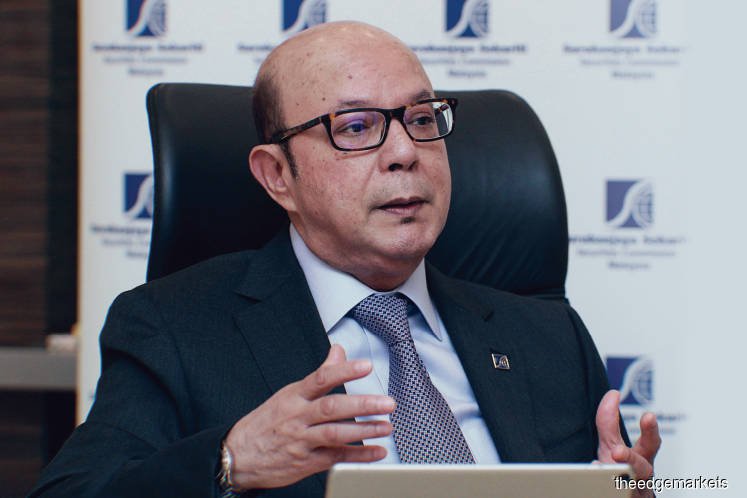 KUALA LUMPUR (Aug 15): Malaysia equity crowdfunding (ECF) and peer-to-peer (P2P) financing platforms have collectively raised RM432 million as at June this year, according to Securities Commission Malaysia (SC) chairman Datuk Syed Zaid Albar.
Syed Zaid said the funds raised since 2015 have benefitted over 1,200 micro small and medium enterprises (MSMEs), and these financing campaigns attracted more than 12,000 investors, 90% of whom are local and retail investors.
"Approximately 53% of the participating investors are also aged below 35, demonstrating the potential of this segment in democratising access to a new generation of investors," he said in his opening keynote speech at a conference themed "Future of Fintech in Asean" organised by CIMB Asean Research Institute (Cari) today.
Syed Zaid said that in response to the emerging pool of digital-savvy investors, the SC is facilitating the provision of digital-only services, such as robo-advisory, which offers investing convenience, better accessibility and transparency at a relatively affordable cost.
To date, Syed Zaid said the SC has licensed three digital investment managers and one digital-only equities broker, and has issued approval in principle to one digital investment manager.
"We have also introduced new requirements for electronic platforms to facilitate the trading of digital assets," he said.
Syed Zaid said the SC has registered three recognised market operators to establish and operate digital asset exchanges in Malaysia.
"Moving forward, we expect more participants entering our market, especially in micro-investing, financial planning, investment advice, social investing and automated trading," he said.
Syed Zaid said while technology generates more opportunities in the financial world, there is rising risk of cyber threats as well.
"Therefore, even as we enhance the digitisation of our markets, I would like to remind our market intermediaries and investors to remain vigilant and take the issue of cyber risk seriously," he said.
Subsequent to his speech, Cari's one-day conference presented over 30 speakers from Malaysia, Singapore, Thailand, and Japan to discuss the latest fintech covering bank and insurance related technologies, ECF, and blockchain technologies.