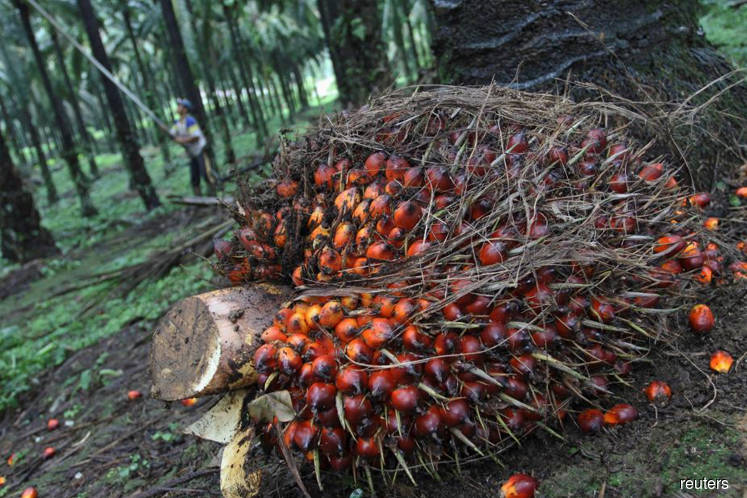 KUALA LUMPUR (Feb 10): Malaysia's palm oil inventories fell a fifth straight month amidst tighter production and slower demand, with January end-stocks below two million tonnes, official data showed on Monday.
January stocks slumped 12.7% to 1.76 million tonnes from the previous month, lowest since June 2017, data from the Malaysian Palm Oil Board (MPOB) showed.
Inventories and output in the world's second-largest palm oil producer, after Indonesia have been falling since September due to dry weather and lower fertiliser application earlier in 2019.
January production fell 12.6% from the previous month to 1.17 million tonnes, the lowest monthly figure since February 2016, according to MPOB.
The decline in stocks and production was in line with market expectations, traders and analysts said.
"Weather had an impact mainly on the January inventories. We should follow output carefully moving forward, including the forecasting for February-March," said Marcello Cultrera, institutional sales manager at Phillip Futures in Kuala Lumpur.
Malaysia's exports in January dropped 13.2% from December to 1.21 million tonnes, the MPOB data showed, due to lower purchases by top buyers India and China.
Exports to India fell 85.3% in January from a year earlier to 46,876 tonnes, the lowest in nine years, as traders cut buying the tropical oil from Malaysia following informal instructions from New Delhi amid a diplomatic spat.
Pakistan, who has said it will help Malaysia counter lost sales to India, made a record purchase of 170,802 tonnes, compared with 80,690 tonnes a year earlier.
The 2019 novel coronavirus (2019-nCov) epidemic and extended Lunar New Year holidays have also disrupted demand from China, a Kuala
Lumpur-based trader said.
Exports to China nearly halved from a year earlier to 176,771 tonnes, the lowest since July, according to MPOB data.
That lack of overseas demand has been pressuring palm oil prices over the last few sessions. On Monday, palm oil was down more than 2.1% at close to 2,754 ringgit (US$664.17)a tonne.
 
Eventually, though, the tight supplies will support prices to trade higher, said Satia Varqa, co-founder of Singapore-based Palm Oil Analytics. 
Here is a breakdown of the MPOB figures and Reuters estimates for January (volumes in tonnes):
| | | | | |
| --- | --- | --- | --- | --- |
|   | Jan 2020 | Jan 2020 poll | Dec 2019* | Jan 2019 |
| Production   | 1,165,860 | 1,213,853 | 1,333,904 | 1,737,498 |
| Stocks     | 1,755,480 | 1,760,000 | 2,010,527 | 3,001,169 |
| Exports     | 1,213,519 | 1,282,000 | 1,398,049 | 1,676,442 |
| Imports       | 85,033 | 80,000 | 123,029 | 81,084 |
*Figures revised by MPOB
(US$1 = 4.1465 ringgit)