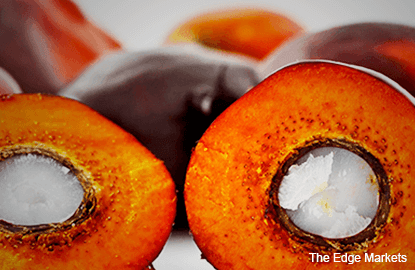 KUALA LUMPUR (March 6): Malaysia's palm oil inventories likely fell to their lowest in six months at the end of February, aided by declining production that dropped to its lowest in nearly a year, a Reuters poll showed. 
Falling inventory levels could prop up benchmark palm oil futures on the Bursa Malaysia Derivatives exchange, which declined nearly 10% in the second half of February before seeing a slight rally last week, tracking soyoil prices. 
Palm prices were up 1% at 2,891 ringgit (US$649.66) at the midday break on Monday.
Stockpiles in Malaysia, the world's second-largest palm producer, in February fell 4.4% from a month earlier to 1.47 million tonnes, according to the median forecast of eight planters, traders and analysts in a Reuters poll. 
The slide in stockpiles would be the second consecutive month of declines and would be the lowest since August, as production fell in line with seasonal trends.
The poll pegged February output levels at 1.22 million tonnes, a 4.5% fall from January. That would be the fifth straight monthly decline and its lowest since March 2016.
"The lower production is in line with seasonal decline, in which February tends to see the lowest production levels of the year," said Alan Lim, plantations analyst at MIDF Research in Kuala Lumpur, who expects inventories to remain below 2 million tonnes for another two to three months.
The survey forecasts that Malaysian exports fell to 1.13 million tonnes in February, down 11.9% from January. 
Despite the sharp drop in exports, inventories still fell, as "exports plus local consumption should more than offset the production and imports," said Lim. 
The forecast for exports would be the weakest in a year and its biggest decline since September, also in line with seasonal trends. 
Shipments of the tropical oil usually weaken from December to February, the northern hemisphere winter period in key palm oil consuming regions, as palm solidifies in cold weather.
Traders however expect to see improved demand in China and Europe, as temperatures rise in the second quarter of the year.
"Right now, there is also talk that Middle East demand could be rising as Ramadan is coming in soon in May," said one Kuala Lumpur-based trader, referring to the Muslim fasting season which causes an increase in palm oil usage.
The median figures from the Reuters survey imply Malaysian consumption of 215,365 tonnes in February. The official data will be released by the Malaysian Palm Oil Board on March 10. 
 
Breakdown of February estimates (in tonnes):
| | | |
| --- | --- | --- |
|   | Range | Median |
| Production | 1,149,200 - 1,320,000 | 1,219,390 |
| Exports | 1,100,000 - 1,200,000 | 1,130,000 |
| Imports | 50,000 - 71,591 | 57,450 |
| Closing Stocks | 1,415,300 - 1,576,000 | 1,472,307 |
 
* Official stocks of 1,540,832 tonnes in January, plus the above estimated output and imports, give a total February supply of 2,817,672 tonnes. Based on the median of the exports and closing stocks estimates, Malaysia's domestic consumption in February would be 215,365 tonnes.
(US$1 = 4.4500 ringgit)