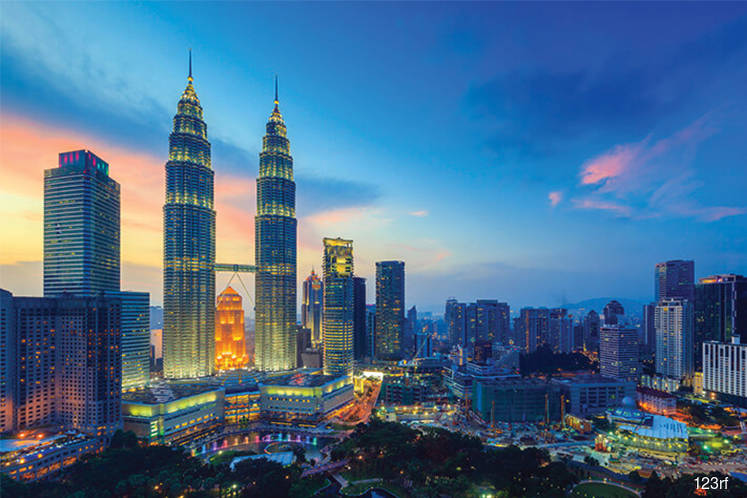 KUALA LUMPUR (Jan 14): As the global environment turns more challenging amid rising trade protectionism and global interest rates, RHB Research Institute Sdn Bhd is expecting Malaysia's economy to sustain at a slow pace of 4.6% for 2019, compared with 4.6% in 2018 and 5.9% registered in 2017.
"Overall, signs of a slowdown in external demand have begun to weigh on Malaysia's manufacturing activities, while the recovery in the mining sector remains slow," its economist Vincent Loo Yeong Hong said in a note today.
Thus, Loo believes economic activities in the fourth quarter of 2018 are expected to ease further after the tax holiday during June to August 2018. "All in, we expect 4Q18 gross domestic product (GDP) growth to moderate to 4.2% year-on-year (y-o-y) from +4.4% registered in 3Q," said Loo.
Malaysia saw its November 2018 Industrial Production Index (IPI) growth retraced to 2.5% y-o-y from 4.3% in the previous month, due to decelerated manufacturing output growth in tandem with a slump in exports, while mining activity fell back into decline.
Notably, the November IPI growth was lower than RHB's estimate of 4.3%, but slightly higher than Bloomberg's consensus of 2.3%, Loo added.
Manufacturing output, which grew at the slowest pace in 2.5 years of 3.5% y-o-y in November 2018 from 5.4% in October 2018, was dragged by a slowdown across most subsectors, such as electrical and electronics (E&E) products, petroleum, chemicals, rubber and plastics, transport equipment, food and beverages, metals, and wood products, said Loo.
These were, however, cushioned somewhat by a pick-up in manufactures of textiles, wearing apparel and footwear, Loo noted.
Additionally, Loo said mining activity output slipped into a decline of 0.7% y-o-y in November 2018, after it rebounded 1.4% in the previous month — this was as natural gas production fell back even as crude oil output picked up marginally.
Electricity output, however, picked up to 3.2% y-o-y in November 2018 from 2.8% in October 2018 to provide some cushion.
Likewise, manufacturing sales registered a slower growth of 7.7% y-o-y from 10.2% in October 2018, and factories also slowed down their pace of hiring, with employee headcount in the sector rising at 2% y-o-y, down from 2.2% in October 2018, said Loo.
Meanwhile, salaries and wages paid to workers also eased to a 10.6% y-o-y growth from 11.8% in the previous month, said Loo.
"As November 2018's manufacturing sales fell by a quicker pace m-o-m compared with the decline in worker headcount, the manufacturing sector's productivity (as measured by sales value of manufactured products per employee) eased to 5.6% y-o-y (+7.8% in October 2018)," said Loo.