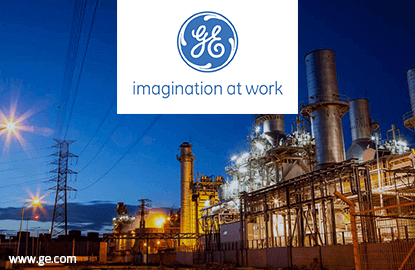 KUALA LUMPUR (May 25): Malaysia has made its debut on General Electric's (GE) 2016 global innovation barometer, along with countries such as Australia, Canada and Switzerland.
In a statement today, GE said that globally, the U.S. remains the number one innovation champion among business leaders, while Germany dropped from number two to number three.
It said Japan is still among the top three countries considered to be a leading innovation champion, moving to the number two position.   
GE said a significant number of Malaysian executives are more positive about entering the fourth industrial revolution, as compared to their peers globally.
Unveiling the Malaysia Report of its biennial 2016 GE Global Innovation Barometer today, GE said that a high percentage of Malaysian executives feel optimistic (76% versus 68% globally), excited (67% versus 61% globally) and confident (72% versus 60% globally) about the prospect of entering the fourth industrial revolution, otherwise known as the Age of the Industrial Internet.
GE's Global Innovation Barometer is an international survey which takes place across 23 countries, gathering perceptions of innovation in the world today.
The recently-compiled fifth edition of the barometer gathered insight from over 2,700 innovation business executives and nearly 1,350 innovation educated members of the public to deliver a comprehensive report on the global perception of innovation.
In Malaysia, GE gathered insight from over 100 business executives, revealing our own national perceptions of innovation. The results show an optimistic country, and one excited by the opportunities afforded by innovation.
The Industrial Internet describes the next wave of innovation impacting the way the world connects and optimises machines. Through the use of sensors, advanced analytics and brilliant machines, the fourth industrial revolution is profoundly transforming the way machines connect and communicate, enabling productivity and efficiency gains, anticipating maintenance before breakdowns occur and transforming today's workforce.
The 2016 GE Global Innovation Barometer also revealed 93% of Malaysian business executives are mindful of developments that are changing the face of innovation.
The Malaysia Report stated 93% of the respondents believe innovative companies are defined in their ability to not only launch new products and services, but also to create a new market that did not exist previously (versus 90% globally).
In terms of innovation strategy, 79% of Malaysian businesses (versus 68% globally) have a clear and defined innovation strategy, favouring incremental innovations (59% versus 63% globally) and internal innovations (57% versus 60% globally).
Having said this, the Report discovered while more Malaysian business executives have a clear process and structure in place to manage innovation as compared to the global average (48% versus 42% globally), the reliance on consumer research as a foundation for innovation (42% versus 35% globally) and turning data and analytics into actionable decision making tools (40% versus 40% globally) are the most challenging best practices they are currently facing.